Klaviyo and Google Ads have finally teamed up to make it easier for you to target your prospects with a brand new direct integration. This new integration allows you to sync your valuable first-party data from Klaviyo segments and lists, straight to your Google Ads Audiences, so you can further optimise and boost your paid marketing strategy.
Say goodbye to downloading your data from Klaviyo to upload it back into Google Ads and juggling never-ending spreadsheets. Once set up, the integration will automatically manage your data synchronisation across these two channels. More importantly, synced Klaviyo lists and segments stay connected, so your Google Audiences will always be up to date. Now with all this time saved, you can focus on better coordinating your channels and scaling your return on ad spend.
How the Klaviyo integration works
Let's take a closer look at how this integration works and what you can do from now on to achieve your goals even more effectively.
The integration can be set up within minutes and in a few simple steps.
In your Klaviyo account, navigate to the integration page and search for Google Ads.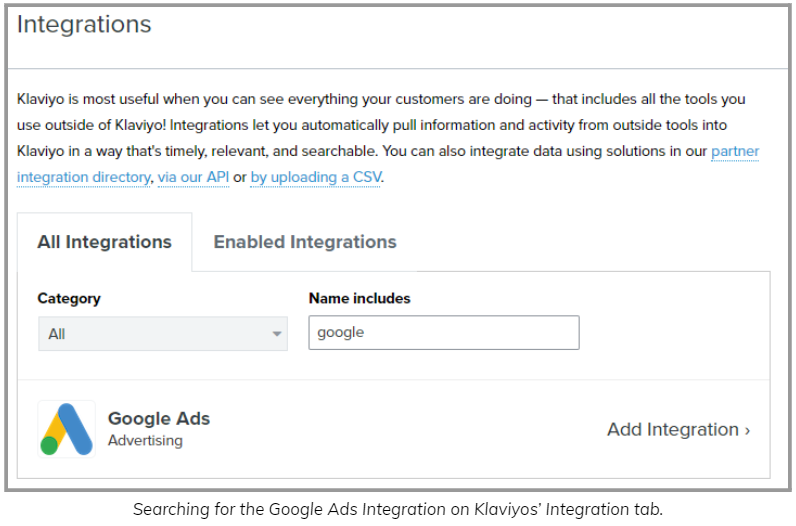 Connect to Google, complete the authorisation process and on the next page, select the Google account you want to sync your data with.
Next, you want to start creating syncs between Klaviyo and Google Ads by adding your desired connections.
Simply select a Klaviyo list or segment and a Google Audience to connect them.
Complete the setup and you're done!

You can also easily build entirely new Google Audiences directly within Klaviyo and feed them with data from your existing segments and lists.
Integration use cases
You can now make use of the integration to retarget existing profiles with your Google campaigns and ads, exclude certain segments from future ads, create similar audiences or monitor how certain audiences are performing. With this, you can, for example, target customers that haven't purchased in a while with an ad featuring trending items or connect your Klaviyo VIP list and then create a similar audience in Google Ads to reach new leads.
Last but not least, with Klaviyo as your source, you have access to all your customer data, including on-site activity, purchase history, loyalty and more.
That way, you can use this data for your paid search activity to serve personalised ads throughout the customer journey to encourage and boost conversions. With this information on hand, you can, for example, target new and existing customers with unique offers at the right time, drive awareness of new product offerings with customers who are likely to purchase or show personalised ads to your loyal customers to increase repeat purchases.
If you'd like to discuss how we can help maximise your PPC campaign success, or if you need help optimising your Klaviyo performance, why not drop us a line?