Setting up an ecommerce store on Shopify is simple. There are several resources available to walk you through setting up a navigable and sleek storefront. But, successfully growing your Shopify store is another ballgame.
Some of the biggest stores have a robust set of marketing channels - email, SMS, and social media, to name a few - to ensure they are maximizing their reach and bringing in more engagement. But just bringing in new visitors doesn't cut it - you also need to be able to retain and retarget these store visitors.
That's where push notifications can make your engagement efforts much more impactful.
Why Use Push Notifications in your Ecommerce Marketing?
Push notifications prompt your store visitors to subscribe to updates from your store directly. Let's imagine a typical journey of a new store visitor. A new shopper sees your social media posts or a search ad and clicks on your store link. They may browse your collections for a while and see how much your products cost. In most situations, this store visitor is not likely to purchase during their first visit. And without anything to bring them back, that visitor could represent a lost opportunity.
By enabling push notifications, you can prompt the new visitor to subscribe to updates from your store while they are browsing it. This ensures that you can bring these one-time visitors back later on with targeted sales campaigns.
PushOwl gives you a robust set of features within the dashboard, along with multiple customisations that you can utilise to personalise your push notifications to your brand. Let's see how you can set up your push marketing channel and create stunning push notifications that increase your revenue.
Step 1: Grow your Subscriber List
The first step to setting up push notifications is to build your subscriber list.
When you first enable any push notification app, the app adds the browser prompt on your store by default. The browser prompt is a permission window that is displayed to your store visitors when they visit your site. Here's what it looks like:
Since browser prompts are native to each browser, they are not customisable. This means that you have little control over what is displayed to your visitor. But, within the PushOwl app, you can add customisations based on your brand voice and preferences.
For instance, you can set a delay so that the browser prompt isn't shown as soon as the visitor lands on your store. This delay allows your visitors to spend a few minutes browsing your store and in turn, makes it more likely that they would opt into your push notifications instead of hastily dismissing it.
Another customisation that you can use is the overlay feature. With an overlay, you can display a message to your store visitors and give them a glimpse into what they can expect from your push notifications. Write a persuasive message here and include attractive incentives to give your visitors more reasons to be a subscriber.
But, what about your store visitors who dismiss the prompt? You can always convert them with the flyout widget. A flyout widget is a small message window that appears on the bottom left of your storefront. The message is customisable by you. Many merchants use the flyout widget to tease a discount code that can be unlocked if the visitor subscribes to the store. You can read more about flyout widgets and how to set them up.
Now, you're ready to start sending notifications to bring in more sales!
Step 2: Set up Automation
Before you start sending promotions, you can set up some powerful automations that will trigger notifications based on customer activity.
1. Welcome Notification
First impressions leave a lasting impact. So, as soon as your store visitor subscribes, it's important that you greet them with a welcome notification that is automatically triggered. Many stores use this welcome notification to greet their new subscriber with a fun message while other stores provide their subscribers with a discount code for their next order.
Learn how you can set up automated welcome notifications.
2. Abandoned Cart Reminders
Recovering your abandoned carts is a crucial part of store ownership. Just like email, push notifications allow you to set up re-targeting to engage shoppers who have abandoned their cart. With push notifications, you can set up a sequence of 3 reminders at different intervals to have a chance to bring your shoppers back and recover your carts easily.
One of the most common tactics used by merchants is to provide a discount code or free shipping on the shopper's cart with the second or third reminder. Want more tactics like this? Pick up different strategies (and free templates) for your abandoned cart reminders from this guide.
This guide to Abandoned Cart Reminders walks you through setting up your automated push notifications for abandoned cart recovery and the best practices to ensure higher conversions.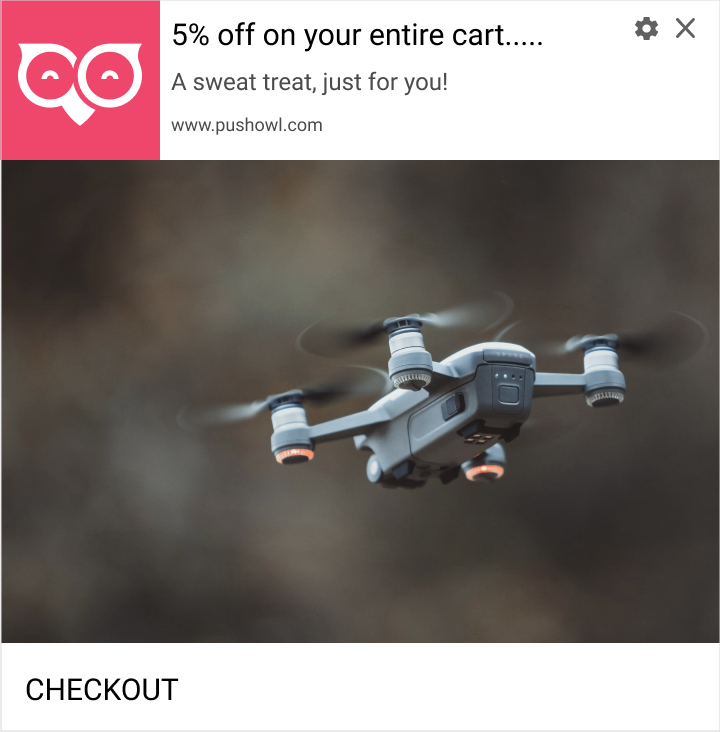 3. Flow
Ever wanted to send shoppers messages that are triggered based on their activity on your store? With Shopify Flow, you can easily set up automated push notifications based on different behaviours- from providing a loyalty discount for purchasing from you, to sending a message notifying them about their order confirmation, delivery, and even return.
With Flow, you need to set up your preferred workflows once, and your customers can stay informed about their orders and any special discounts as you process it in the backend.
Read more about how you can set up triggered workflows for PushOwl on Shopify Flow.
4. Integrate with Other Shopify apps
One of the best things about being part of the Shopify ecosystem is that apps work together to integrate their services so that merchants can supercharge their store. PushOwl has partnered with apps like Judge.me, Fera.ai, Plobal Apps, and Now Back in Stock, to name a few. Read more about the different integrations and how they work.
Read about the other automations that are available on the PushOwl dashboard.
Step 3: Convert Subscribers with Attractive Promotions
Building your subscriber list is easy once you've set up your widgets.
According to a statistic, 5 to 15% of your store visitors are likely to opt-in to your push notifications.
Once your subscriber list starts growing, it's time to send push campaigns to these subscribers to bring them back to your store and convert them into customers.
1. Flash Sale
There's no doubt about it - shoppers love flash sales! Campaigns with an expiry date create urgency in your shoppers and make them checkout faster so that they don't miss the deal. Many stores run weekend sales and use the Flash Sale feature to send out push notifications with an expiry date.
Add the discount code and the expiry time in the title copy. With flash sales, stores don't have to explain too much about the sale since the title and the message create enough urgency to persuade subscribers to make a purchase.
2. Event Promotion
Campaigns which get the best traction are ones that are relevant and timely. This is why a notification promoting your store's Christmas sale or a Black Friday sale gets more clicks and revenue than a regular old campaign.
Make the most of this attention by sending out timely campaigns based on these events. Some stores even run campaigns during fun holidays and events, like No Shave November or Fashion Week.
3. Product Engagement
Whether you're launching your new product or promoting an existing product, sending a push notification with an attractive hero image and a catchy caption is bound to make your subscribers more intrigued about your product, prompting them to get it for themselves.
Use the title and message to paint an attractive picture about your product. You can even talk about the benefits of the product and what your subscribers will gain from owning it.
4. Product Advice
What unique quality or benefits do your products have? Do they have multiple functionalities? Or can you use the product with something else for a quick beauty hack? Promote these hacks with your subscriber base.
Sending out push notifications with exclusive tips can make your subscribers eager to receive your notifications and they are more likely to come back to your store. Even if they don't purchase the product you've mentioned in the notification, you can expect them to browse the rest of the store and make a purchase while they're at it.
Want more campaign ideas? We have a concise article about the different kinds of campaigns that top Shopify stores send.
You've now successfully set up your push notifications and figured out a strategy for your campaigns: go ahead and plan for upcoming sales and events. Happy marketing!