In SEO there are many elements which can impact the performance of your website. To ensure you appear as high in the search engines as possible, it is important to cover every base when it comes to optimising your website. In particular, focusing on the backlink profile of your website. Whether you have a Shopify website or Wordpress website, link building is one of the most effective ways to boost your keyword rankings and generate increased organic traffic. But, it is not as simple as you think and getting the right links can be a challenging process. Understanding 'what makes a good backlink' is key to creating a strong link building profile and it involves lots of different research methods to find the best link prospects. You also need to use a variety of strategies to acquire new links because they can be obtained in multiple ways.
---
What Is a Backlink?
A backlink is any link which goes from one website to another. They can also be referred to as 'inbound links' or 'incoming links'. Backlinks should always point to a web resource that is relevant to the website it is directing from. You can find them in many different formats, including infographics, guest posts, editorials, directories and forums. Google uses backlinks as a ranking signal and determines how high your site should appear in the search engines by analysing the level of quality backlinks your site has. Good quality links also highlight to Google that your website content is valuable and trustworthy.
---
Why Getting Good Quality Backlinks Matters
When you are building new backlinks, there are a number of things you need to consider in order to check the link quality. Making sure you secure good quality links is vital and can make all the difference to your SEO success. On the other hand, obtaining low-value links can harm your website and negatively impact your keyword rankings. However, when link building is done right, your website will benefit from stronger keyword rankings, organic traffic growth, improved brand credibility and new relationships.
To help you get the most out of your link building strategy, we will be providing you with a full breakdown of 'what makes a good backlink' here in our article.
Take a look!
---
Backlink Relevance
When you are looking for new link prospects, it is important to find the most relevant and appropriate link building opportunities. This means obtaining new backlinks from referring domains which are related to your specific website page and content topic. You can also build backlinks by local relevance which means they have a close connection to your location-specific terms.
By making sure your backlinks are relevant to your website, the more natural your link profile will be. No matter what format your backlink is, a good backlink should always point from a closely connected referring domain and referring page.
High Authority Referring Domains
Another major backlink feature is the referring domain authority. This step in the link building process involves focusing on getting backlinks from higher authoritative referring domains. A good backlink should always point from a referring domain with a high authority score, as this shows to Google that your content is reliable.
To describe a referring domain, it is the external website which the backlink points from. Domain Authority is scored between 1-100 and is a ranking system that Google uses to determine how high your website is to rank in the search engine result pages. It is based on multiple factors, mostly by the total number of quality backlinks but also your website's overall SEO performance.
---
'Do-Follow' Backlinks
To get the most out of your backlinks, it is recommended that you build do-follow backlinks rather than no-follow backlinks. A do-follow backlink holds increased value and helps web pages rank better in the organic search results.
All backlinks are do-follow by default and search engines are able to crawl them which allows authority to be passed on from the referring website to the final destination. Do-follow makes a good backlink because it is able to strengthen your website's authority and signal to Google that your content is trustworthy.
Anchor Text Relevance
Every backlink should have anchor text and this is found on the external website linking to your website. The purpose of anchor text is to describe to search engines the target keywords your website should rank for. Anchor text consists of visible characters and words which hyperlinks to another web page. It is important that these words provide context about the web page it is linking to.
Typically, the anchor text is bolded, underlined or has a different coloured font to show users that it is hyperlinked. A good backlink needs to have strong anchor text, which includes the target keyword or phrase because Google will know it is related to the web page it points to.
Backlink Positioning
To ensure your backlink delivers the best impact on your website, it is essential to consider the link position on the referring page. The reason for this is that the higher a backlink is positioned, the greater effect it will have on your keyword rankings and the more organic traffic it will direct to your website.
When a backlink is placed high on the referring page, this improves the amount of authority your website will receive. For example, getting a backlink in the first paragraph of a blog post or in the header is better than having the links in the footer or final paragraph. Another effective backlink placement opportunity is the homepage, such as appearing in a snippet of the content from the referring page.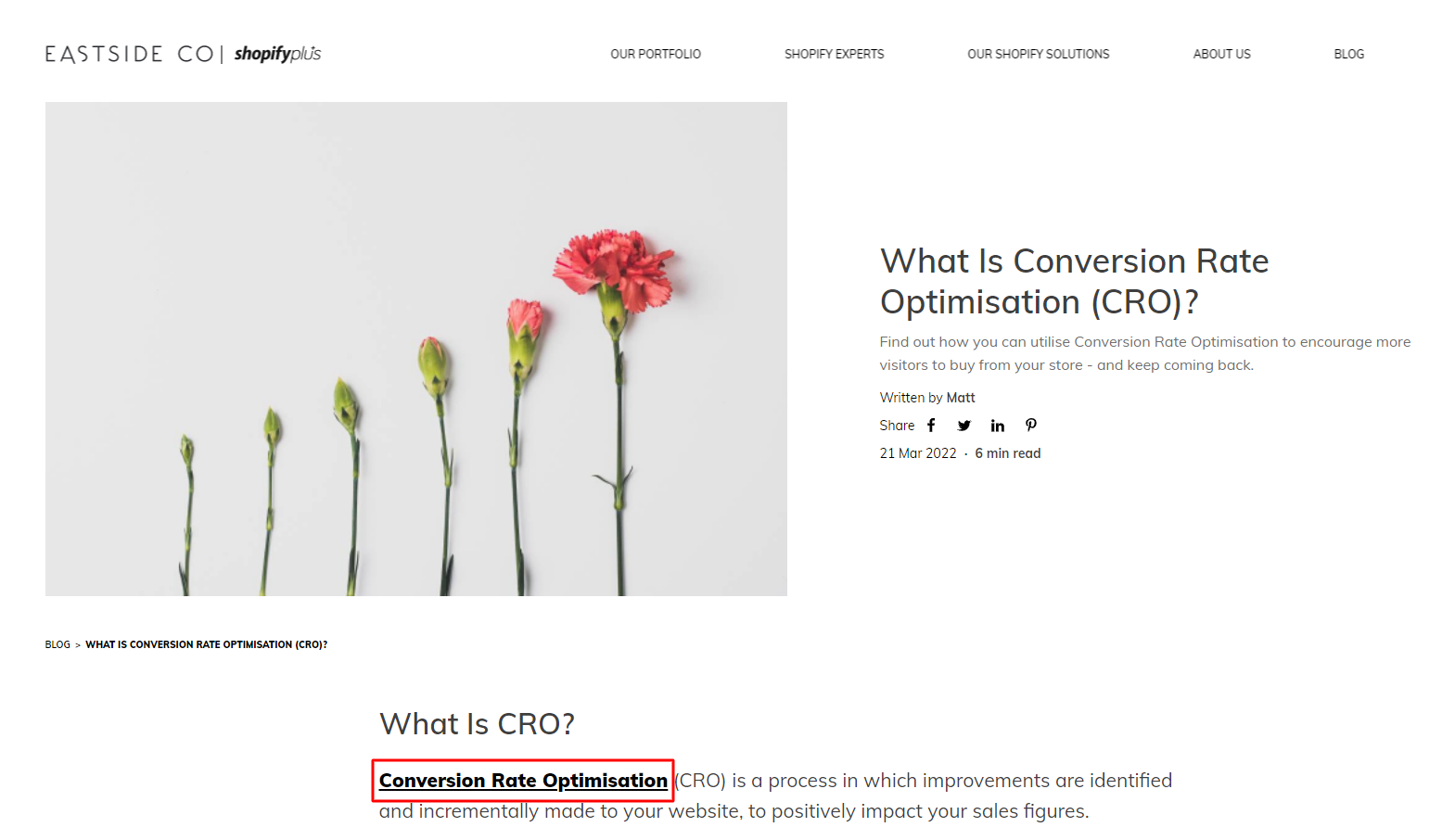 Backlink Destinations
Have you checked if your backlink is directed to the right web page? This step is vital in making sure the quality of your link is strong as the backlink destination url must be relevant to the target keyword and referring domain. If there is no close connection between your web page and the referring page, then it won't hold any value to Google or your SEO performance. Another essential reminder is that a good backlink should always direct to a related content topic and appropriate content type. This helps to pass on brand authority and credibility to your website.
---
Natural Backlink Profile
One of the biggest factors that makes a good backlink is when you acquire links naturally. This refers to the process of gaining backlinks through creating quality and valuable content, without asking for them or involving any costs. A common issue in SEO is when a website purchases backlinks as this can have a negative impact on the authority of your website. Especially if they are bought from spammy or toxic websites. To build the best backlinks, they must be created organically and from high quality, reliable external sources.
High Quality External Websites
To ensure the highest quality backlinks, be sure to check the link prospects thoroughly before you go ahead with any opportunities. This is because any external websites that you acquire backlinks from, must be authoritative and reputable. When a referring domain has a positive domain authority score, this passes on credibility to your own website and boosts your overall SEO. You should ensure that the external website is not spammy or has any toxic background which could jeopardise your own website. If you have backlinks from weak websites, this can negatively affect your keyword rankings and website authority.
Improving your website backlink profile is not the easiest process but we hope our tips on 'what makes a good backlink' have given you some helpful ideas. By following these key points in our article, you'll be able to generate boosted results and improved brand awareness. If you have a wordpress or ecommerce website, like a Shopify store, don't forget you'll need to apply these same strategies.
---
To find out further information on link building or any other SEO-related topics, simply get in touch with the Shopify experts at Eastside Co and we'll be happy to advise you!