We're not under the illusion that we're the only Shopify Plus agency in the village, and we also know that any brand worth its salt does thorough due diligence before choosing an agency partner.
The agency ecosystem has grown enormously since we started out in 2012, and there are now thousands of agencies to choose from. It can be overwhelming for merchants to search through all the options without knowing who has the right reputation, experience and expertise for a project or collaboration.
We've put together a comprehensive list of the people we most often find ourselves in the room with when pitching to clients, to help you get a feel for who the key players are in the agency world.
---
How To Select A Shopify Agency
Once you've shortlisted a couple based on your criteria, we'd recommend taking a look at their case studies and the calibre of clients they've worked with. Once you've found an agency that looks like a good fit, contact them.
Get an idea of their price range based on your brief. You should be able to learn a lot based on the response to your initial query, from factors like how quickly they respond, what kind of content they share, the knowledge of the sales consultant, the questions they ask you and the quality and depth of proposal.
You should get a feel for how well they might fit with you culturally, and whether they're a potential partner.
So here it is: all in one place, the peers we think are the top Shopify agencies in the world for 2023.
---
(You didn't really think we would create this list without giving ourselves some kudos. Of course, we place ourselves in the ranks of the best Shopify Plus Agencies in the UK and the world.)
Eastside Co is one of the original Shopify Plus Partners in the UK and is a veteran in the Shopify ecosystem. We have a large team of ecommerce specialists covering UX and design, Shopify development, marketing, Shopify app development and ecommerce strategy.
Brands: With a focus on our strategic approach, we have worked with some of the largest brands including; Nike, Grenade, Unilever, Condor Cycles, Motel Rocks, Pure Electric and Klarna.
We are also one of the only original Plus Partners that remains privately owned and run, and we service clients in the USA, UK and Mainland Europe from our bases in Birmingham, London and the UAE.
---
Another veteran in the world of Shopify, WMW has offices in London and New York, WMW pitches itself and the Plus agency for international brands and has been very successful in that endeavour.
In 2021, WMW was acquired by Pune-based IT services group, Tech Mahindra but continues to operate as an independent brand.
Brands: an impressive client base including: Pangaia, Skinny Dip, David Beckham, Hasbro, Emma Bridgewater, Finisterre and Penguin.
---
Fostr made a name for itself as the agency that supported Gymshark to move from Magento to Shopify Plus in 2016. Since then Fostr has firmly positioned itself as one of the go-to agencies for luxury, fashion and beauty brands.
In 2021, Fostr was acquired by a leading Yorkshire digital agency group, IDHL.
Brands: They boast clients such as Victoria Beckham, Polaroid, Joseph Joseph, Ralph & Russo and Florence by Mills.
---
Founded in 2018, Charle's services cover Shopify website development, support and maintenance, CRO, internationalisation and Shopify app development.
Charle also offers a subscription method for its technical support services. As an agency it positions itself as a company that builds sites with ​growth, sales and orders, inventory products and conversion-centricity at its core.
Brands: Charle has generated an enviable client list including Samsung, Billionaire Boys Club, Candy Kittens and Hippeas.
---
Blubolt started out life as an agency with a proprietary ecommerce solution, but some years back made the move to switch from its own technology to using Shopify as a platform. Even though their time in the Shopify ecosystem is relatively short, they still have 15 years of experience in general ecommerce.
Their services cover website design and development, store optimisation, discovery and ongoing technical support.
Brands: With clients like TeaPigs, Misfits, Rave and Robert Welch, Blubolt is certainly worth consideration.
---
Quickfire Digital has a small in-house team of experts covering both development and client services. With a number of years experience under their belt, Quickfire Digital are skilled in creating and enhancing Shopify stores for a range of brands from startups to more established clientele.
Brands: Having worked with a number of key Shopify merchants including the likes of Mylee, Juicy Couture, Fila and Bremont they are definitely one to consider when looking for a development agency.
---
Having created one of the first 90 Shopify stores in the world, Underwater Pistol has over 20 years experience in Shopify. Founded in 2006, they have grown to have over 40 in-house Shopify experts with a focus on development and design.
With offices in both London and Belfast, Underwater Pistol strives to grow brands through the power of Shopify.
Brands: Over their tenure in the industry the agency has worked with some huge brands such as Brewdog, Argihi Bianchi, Brew Tea, Pooch & Mutt and Abbott Lyon.
---
Founded in 2010, Swanky is a full-service Shopify Plus agency. They are based in Exeter, UK, with offices in Australia and France. They have been working with Shopify clients since 2012 and have over 70 in-house Shopify Plus experts working within a range of different ecommerce disciplines.
Brands: Swanky have worked with a variety of prestigious clients including the likes of Wilkinson Sword, Hello Fresh, and Huel. With a key focus on D2C subscription brands, they are definitely worth a look.
---
With a key focus on luxury fashion beauty and wellness brands, By Association Only is a Shopify Plus agency with a passion for design.
BAO was founded in 2010 in England and services clients across the UK as well as internationally. It has a global presence in the USA, Australia, Germany, Hong Kong, Portugal and more.
Brands: BAO has worked with a wide range of Shopify clients including Oh Polly, Lulu Guinness, Globe Trotter and Purelei.
---
Strawberry has been around for 20 years. Based in the north of the UK, they're a Plus Partner specialising in ecommerce development, optimisation, brand design and headless commerce. As well as Shopify Plus, they're also a 'BigCommerce Preferred Partner' so work across both platforms.
Brands: Strawberry has worked with established names like Deliveroo, Premier Equine and Turnbull and Asser.
---
This Australian cross-platform agency designs, develops, supports and provides marketing for international clients. It works primarily on the Magento and Shopify platforms, amongst others.
Brands: Petbarn, Guess, Coco Republic, Olympus
---
Kubix is based just a stone's throw from our Head Office in Birmingham, and was set up in 2015. Kubix specialises in Shopify web design and development, as well as offering marketing support. It was one of a range of UK agencies to gain Plus Partner accreditation in 2022.
Brands: Geckowear, FurBabiess, Small World Baby, Chickidee
---
Established in 2001, Propeller is an ecommerce agency which specialises in both Shopify and WooCommerce. With offices in both London and New York, Propeller work as an extension of your existing marketing team to create a digital strategy which will push your brand to new heights.
Brands: With over 20 years of industry knowledge they have worked with a range of merchants both on and off Shopify including Twinings, Kelloggs, Zizzi and Full Green.
---
An official Shopify expert and partner agency, 1Hutch specialise in Shopify theme builds. As an agency they combine their technical expertise and creative skills to produce websites for merchants who are looking to break into the ecommerce marketplace.
Brands: 1Hutch have built over 200 Shopify and Shopify Plus Stores, and have worked with brands such as Love Wine, The Naked Pharmacy, Moi + Me and more.
A fantastic agency for a start-up business looking for a new website backed by the knowledge and experience of an agency.
---
Statement bills itself as 'the premier Shopify Plus agency for ambitious brands' and a specialist in the design, build, replatform and optimisation of Shopify Plus websites. Statement is one of the more well-established agencies, having been founded in 2010. They have four locations around the UK, in Leeds, London, Manchester and Harrogate.
Brands: Hotel Chocolat, Neom, Prestige, Hoover
---
This agency's HQ is in New York City, and it has 11 other hubs around the world, from London to Bangalore. Working on Shopify alongside other platforms, its key services include performance enhancements, security and compliance, custom software development and proactive monitoring.
Brands: Huawei, Totes, MVMT
---
'We help ambitious brands build sustainable and scalable growth' (without all the agency fluff). This London-based creative agency has an impressive portfolio of clients across development, branding, paid advertising and video production.
They don't just work with the Shopify platform; they also use Webflow and Magento.
Brands: The Gut Stuff, Heinz to Home, Bloom and Wild, Boden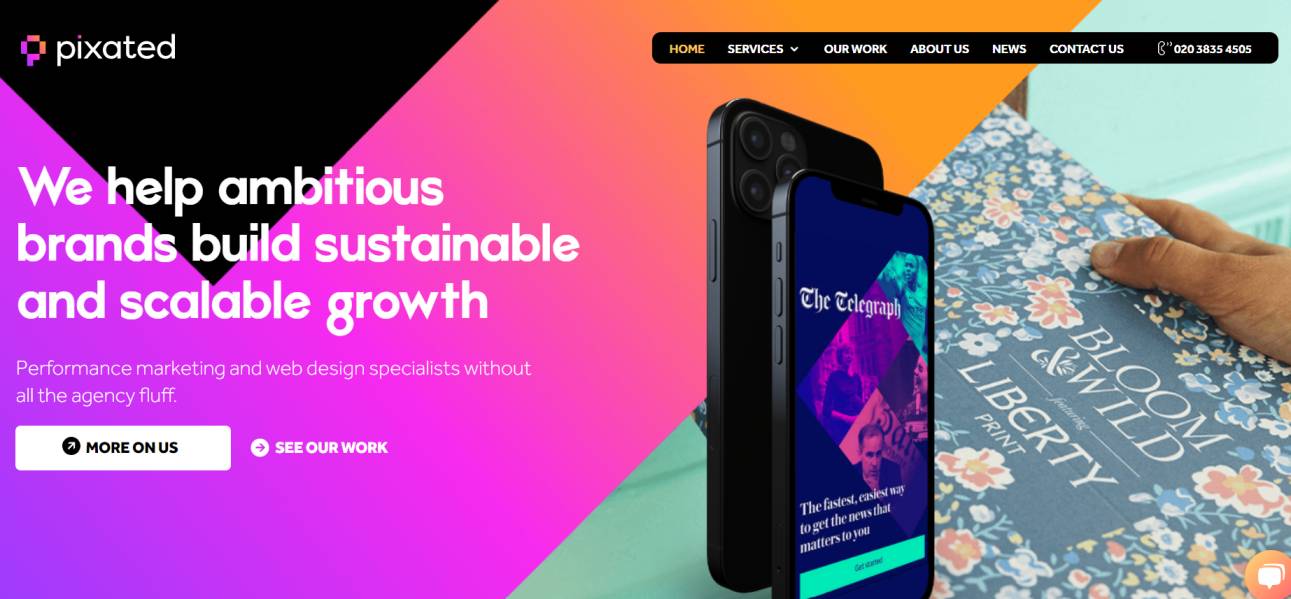 ---
Another agency focusing solely on the Shopify platform, their mantra is to 'help you get the most out of the platform driving the most iconic brands in ecommerce'. A top-rated Seattle-based Shopify Plus agency, its services cover all the areas you would expect from a full-service partner, including strategy, design and creative, development and growth marketing.
It promotes itself as having the ability to work with businesses of all sizes, from start-up to enterprise.
Brands: Bulletproof, Inside Weather, Ram Mounts
---
Previously known as Pivofy, Uncap launched in 2014 and is a Chicago based boutique agency specialising in 'implementing end-to-end ecommerce solutions, executing brand-driven and user-centric strategies, creating exceptional web and mobile user experiences, integrating comprehensive omnichannel ecosystems and shaping the most emerging technologies'.
Uncap brand themselves as 'the No B.S. Shopify Plus agency'.
Brands: Fluid Freeride, Supcase, Toolbarn, Sanitaire
---
Hailing from Santa Cruz, California, this agency isn't one we're as familiar with as some of the others on the list. It was founded 19 years ago and the team there collaborate with their clients across website design, content creation and branding. As well as working on the Shopify platform they also work with WordPress.
Brands: Spike Brewing, LifeStraw, Island Stone, Brisk It
---
Based out of New York City, Avex has around 35 people focused on ecom, design and technology. They build sites, optimise sites, undertake branding and creative work, and deliver email marketing services.
Brands: Hugo Boss, OneBlade Shave, Natural Dog Company
---
This award-winning Shopify Plus agency specialises in headless ecommerce, migration to Shopify, web design and development, and ADA compliance for accessibility. Founded in 2015, it's based in Washington, DC, New York and Mexico and has 15 people on the team. They were awarded Shopify Partner status in 2017.
Brands: Bodega, Women.nyc, Bolt Demon, Eternal Fleur
---
Rainy City is a female founded and led agency which sells itself as a partner more than a service provider, aiming to work with clients long-term across business and marketing strategy, design and engineering.
It's a Shopify Plus agency with a focus on improving business performance.
Brands: Tincture, Ivy Nixon, Baraka Shea Butter, Darts Corner
---
Thus ends our roundup of the best Shopify agencies for 2023. We hope it's helped give an idea of the calibre of ecommerce experts in the flourishing ecosystem. If we made your shortlist, drop us an email and have a chat with one of our Business team now.