"Why do I need to get more Instagram followers? I'm too busy running my online store to deal with such triviality." - Wrong!
Psssst…You may have heard. There is this (not so new) invention called social media and it could showcase your products to hundreds (possibly thousands) of potential customers per day. So please remind me why you are not utilising this FREE advertising to its full potential!?
It's true: social media is by far the cheapest and most effective marketing strategy for any e-commerce business. Companies who previously had to spend thousands on PPC advertising campaigns are now focusing the majority of their efforts onto social media sites like Twitter, Facebook, Pinterest and Instagram instead.
The great news is that you do not have to be a marketing professional to create a strong social media presence online. In fact, at Shopify Builder, we encourage many of our clients to handle their own social media as no one quite understands your business as well as you do! Although saying that, we do give them a whole heap of support by supplying guides which teach them how to grow their online presence. After all, our client's success is our success too.
The first part of our social media focus guide is going to focus on Instagram and how to get more Instagram followers for your Shopify store.
Why is Instagram an important social network for Shopify store?
Instagram is a mobile, image-based social network that allows users to share photographs (usually with a pretty filter) to their followers. This makes it a visually pleasing and engaging medium for Shopify store owners who want to showcase their products, market to existing followers, get more Instagram followers and – most importantly – make conversions.
Let's look at some statistics. According to a social media report (Feb 2014) by research firm "L2," Instagram is the most rapidly growing social network out of Facebook, Twitter and Google +. Not only that, it is also reported to have the highest engagement levels too. Instagram has fifteen times more engagement than Facebook even though it has only 1/10th of the audience. The report also suggests that around 90% of prestige brands now keep a presence on the social network, up from 63% in July 2013.
How to get more Instagram followers, Rule #1 - Generate good content
Many Shopify store owners make the mistake of trying to engage too early on in the game. Every time you follow or like a photo Instagram sends a notification. You may hold a user's attention for five seconds (if you're really lucky) with this initial notification. However, if there is no content on your page then it is extremely unlikely that they will interact with you. Building strong content first is the foundation of any successful social networking.
So how can you make your Instagram content strong enough to attract followers?
Use clear images: Bad quality or fuzzy photographs will not cut the mustard in the world of Instagram.
Do not just use product photography: It is a great opportunity to showcase your products but make sure your Instagram does not look like a catalogue.
Don't be afraid to be a little personal: Inspirational quotes, relatable daily occurrences and office photographs are great content ideas which are less sales-y.You should be making customers feel that they have a "behind the scenes" pass at your business.
A picture says a thousand words - but do not neglect your caption. It makes the image relatable and creates context. Asking questions is one of the top ways to encourage involvement.
Use the correct hashtags for your business. (We teach you how below.)
Use an attractive filter that sets the mood of your image. There are tests to show that, bizarrely, some filters instantly attract more "likes" than others. (More below)
Some examples of Instagram business pages with great content:
Sephora
have a very inspirational Instagram page that is packed with fantastic content. They use a mixture of product, lifestyle and art images to generate reactions from their followers. Their most interactive posts are photo collages where they make users vote on which product or makeup result they prefer. Users naturally cannot help but want to give their opinion.
Coffee. Not the most interesting or visually pleasing product to market on Instagram. However Starbucks somehow makes it work. Lots of their content is actually user generated. They encourage users to decorate their cups and submit them to the site. This is a great competition idea to gain interaction from followers.
Take a look at this article if you're looking for more ideas around marketing strategy.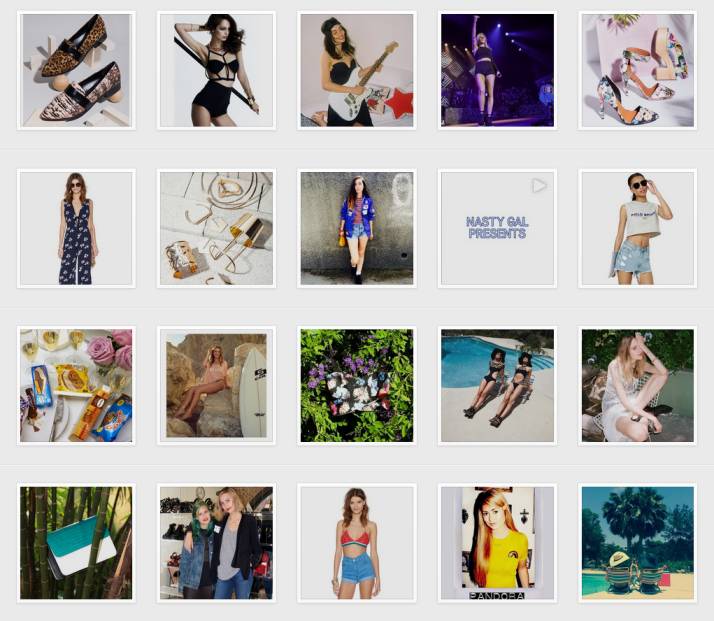 Nasty Gal
has taken the internet by storm all because of social media. The creator actually started the store on Myspace and found her models there too. They always use photographs of models that their target market would find aspirational. Instagram posts are a mixture of product and lifestyle posts. Their ladies shoes posts are especially popular. Nasty Gal make good use of Instagram's video function too.
How to get more Instagram followers, Rule #2 - Edit your photos
As mentioned previously, brands like Sephora use captivating ways to display their images. You can get applications that will help you achieve this look.
How to get more Instagram followers, Rule #3 - Use the correct hash tags
Hash tags are a way of getting discovered by users that do not know that you exist. There are many popular hash tags on Instagram that you could tag your photographs with to get more visibility. There is a nifty tool on Webstagram which allows you to view the most popular tags on Instagram right now (24/06/14)
If you tag your photographs with these "top tags" then you will definitely gain a few likes. However they are likely to be very shallow "one off" likes and the user will probably have no interest in your brand. I personally call these "empty likes" and are great for image, but are not going to end up with conversions that your ecommerce store needs. What you need to create conversions in store are "full likes"
Many Instagram users follow certain hashtags according to their interests. For example, I follow #snowboard #makeup and #art because of my hobbies and this helps me to find users/brands that I have something in common with (and also have products that I want to buy!) This means that you need to do some serious hashtag research to optimize the reach and "fullness" of the users that you are targeting. There is a tool available at Webstagram where you can search certain hashtags to see the quantity. This tool automatically pulls a list of similar hashtags which you may be able to utilise.
I used #lipstick in this research.
There is a high tag volume on #lipsticks #lipstickjunkie #lipstickaddict #lipstickgang #lipstickismyobsess ion. I would definitely add these tags to my photograph to target specific users. [It is usually a safe bet to avoid associating yourself with any swearing or drug related tags in case you offend your existing customer base.]
How to get more Instagram followers, Rule #4 - Follow the right people
You also need to start following the people who are going to be the most interested in your products. There is a quick (but quite cheeky) way to do this: target your competition's followers. You know that these users already have an interest in your products and are more likely to get a follow back from them. Follow as many users as possible to begin with. Eventually you will want to get your account into balance and have more followers than you are following. However you can use a quick tool called InstaFollow (available in the app store) that automatically unfollows people who do not follow you back. Using a desktop program like Iconosquare can really speed up your engagement. It allows you to like and comment posts much more quickly than on the phone application.
How to get more Instagram followers #5 - Analyse your progress
Iconosquare also lets you have some vital insight into the analysis of your Instagram page. The most important things to look are: What filters are working for you
When your optimum engagement time is:It is important to analyze what has and has not worked for you previously. Iconosquare provides detailed analysis of you past posts and engagements.
The dark circles indicates when you usually post media, whilst the light grey ones show where your community is most active. For my personal Instagram (shown below) I mainly post on Monday's at 6pm. However to optimize my Instagram posts I should be posting on Tuesday at 8pm, or Sunday at 10pm for maximum results.
Which posts are the most popular/have worked well are available on the engagement page.
How to get more Instagram followers, Rule #6 - Pay to be featured
You know earlier when I mentioned that Instagram is one of the greatest ways to get noticed by potential customers for free? Well I may have stretched the truth a little. There are many companies that are speeding up the results of their social campaign by paying for it. Users that already have a large Instagram following tend to accept free products (or the odd PayPal transfer) to feature your product or page on theirs. If you are going to venture down this route then please check out the interactivity of your chosen blogger's feed. There are some profiles that look like they have thousands of followers but all of them are fake profiles. A follower count of 30,000 plus should be getting at least 3,000 likes per post. We are not going to recommend any specific users here but you will normally find an email address in the user description if the blogger is willing to be approached. Thirty GBP per post is around the correct price to pay per advert. A small price to pay to get more Instagram followers who are interested in your product.
The Instagram tools you must implement now!
Webstagram A good tool for Keyword research and other Instagram analytics.
Instatag Gives you lists of themed tags that can be copied and pasted on your phone. Saving you lots of time writing tags out manually.
Instafollow Automatically unfollows users that fail to follow you back.
Instwogram Unsupported Instagram application that allows you to have a second account on your phone without logging in and out. (Download at your own risk, but no problems to report so far.)
Hopefully this guide has given you a little insight into the diverse nature of Instagram and the many ways you can help to boost your followers (and sales!) If you have any questions then feel free to make an enquiry to speak to one of our team.