Original article updated for 2023
SEO may be intricate at its core, but achieving good results isn't as difficult as its algorithms make it seem. The best SEO advice you can follow in 2023 is simply to keep improving usability by refining your fundamentals: content, interface and strategy.
So don't panic over the complexities of SEO and algorithms. Stay informed about the trends that shape search engine evolution, but there's no point in losing sleep every time Google announces an update.
In fact, there are thousands of updates that roll out every year, and Google doesn't announce (or even confirm) hundreds of them. So relax. If you're doing everything you can to ensure an easy, entertaining and effective experience on your digital platforms then you're already winning.
Here we're going to explain how to achieve your 2023 SEO content goals by enhancing your keyword research and link building strategies. Once you have a broader understanding of what SEO is today, how it got to where it is and where it may be headed, Google updates won't sound so frightening any more.
Refine your content with a keyword strategy
Whether it's an expert spewing out all the facts or a fellow entrepreneur simply sharing newfound knowledge, there are two words that will always come up in an SEO conversation. Keyword research.
Where keyword research started:
Keyword research has been the cornerstone of SEO since the late 1990's, before the Google era even commenced. Back then, successful ranking was as easy as stuffing multiple keywords across your webpages, thereby manipulating search results.
No care for the comfort, intent or experience of the user whatsoever.
12 or so years later, by the time Google had gained significant power among search engines, the Panda and Penguin updates rolled out and declared keyword stuffing as black hat SEO. Any website practicing such ruthless tactic would be deranked and penalised.
A lot of people in digital were perplexed by this because they were under the impression that they're doing things the right way – you know, for the algorithms. But Google's intention soon became clear: do it for the user, not for the bots.
From then until now, only relevant, high-quality content is rewarded.
How keyword research works today:
Keyword research is still a pinnacle of SEO practice because it feeds into your every next move - from website content and social media posts to AdWords and PPC campaigns.
But today, the technical delivery of your content is far more important than the amount of time you spend building new keyword sheets over and over again. Instead, build one strong, dynamic keyword sheet and keep refining it.
Getting started with keyword research is easy:
Brainstorm a broad list of topics that define your business. Write them down in simple English – something a user is likely to type in search. Search these topics on different platforms like Google, YouTube and even Facebook to see what suggestions come up.
Pick the suggestions that stand out and best suit your business. You'll know what it is when you see it, there's no expert tip behind this. Look at related searches that come up on the bottom of SERP pages too. These are gold for your brainstorming process. Jot down any new topic ideas you come up with throughout this process.
Some SEO experts will take the brainstorming phase of keyword research as far as looking through wiki results to see which phrases are highlighted, how keywords are linked or what the table of content's language structure looks like. You can also look at online forums to see how users communicate, or how they might phrase questions in their conversation topics.
Look how much keyword-rich information you can find from searching 'Shopify' on Reddit alone. You must travel the internet far and wide when conducting keyword research.
Now you've successfully created a set of seed keywords (otherwise known as base, ground or foundation keywords).
With your seeds in hand, you can start using SEO keyword research tools:
Analyse your list of seed keywords on different SEO tools. And use a variety! There's no such thing as the best SEO tool. You have to test many different ones and get your own feel of which is best suited. Try a free trial with Moz, Ahrefs, SEMrush or Ubersuggest to get started.
Couple the results you find with data gathered from Google Keyword Planner, Google Trends and Keywords Everywhere. There are a lot more free tools and extensions that help with SEO, but these three are specifically significant for keyword research.
Spend adequate time comparing keyword results to choose your ideal keyword set. Focus on volume, difficulty, competition, CTR and CPC. Differentiate between seed keyword, body keyword (2-3 phrased word) and longtail keyword (4+ phrased word) results in your search.
Remember, this is not a once-off task. SEO specialists and user-focused marketers will keep coming back to their dynamic keyword sheet to track performance, update keywords and improve strategy. You need to stay inquisitive about the changing nature of consumer needs and online behaviour.
Next, apply the knowledge gained from research and analysis. The keywords that you decide to use become the foundation of all the content you create.
Use your keywords in the right places:
Technical SEO content like your URL, meta titles and meta description. Make sure you're using relevant and natural language here too. Again, everything you're doing is for the humans, not the bots.
H1, H2, H3 (or any subheadings) and body copy on your website. Different pages on your website should have different keyword themes. Link specific keyword phrases to applicable pages, and remember to link keyword-rich anchor texts as part of your inbound linking strategy.
Image file names, titles and alt-tags. Images get audited too, and since you're doing this to help accessibility for the disabled, Google will recognise and reward you.
Articles and other marketing content. High-quality articles focus on including keywords because ultimately your intent is to answer the questions people are actually asking.
Keywords count across all your digital platforms. So even though your website ranking is unaffected by social signals, social media is still a huge driver of traffic. Symmetry in your use of keywords and language is crucial.
How the BERT update affects keyword research:
We've got a detailed article on what the BERT update means but in short, all you need to know is that BERT doesn't change the fundamentals of organic search. It is only there to help deliver more relevant results based on searcher intent from a natural language processing perspective. The results you see when doing keyword research may start to look different soon but this will only make your keyword strategy improve naturally - your approach doesn't have to change.
Nonetheless, if you still feel like your website dropped in ranking after the BERT update, follow these five important tips:
Identify the interest and intent of your audience when conducting keyword research. Understand how search intent matches lexical semantics when implementing new/updated content. Determine the thoughts and emotions of your audience when analysing performance. Find language-use variations across different locations in your results. Focus on voice search when building your strategy.
Types of user intent that will guide you through building a keyword strategy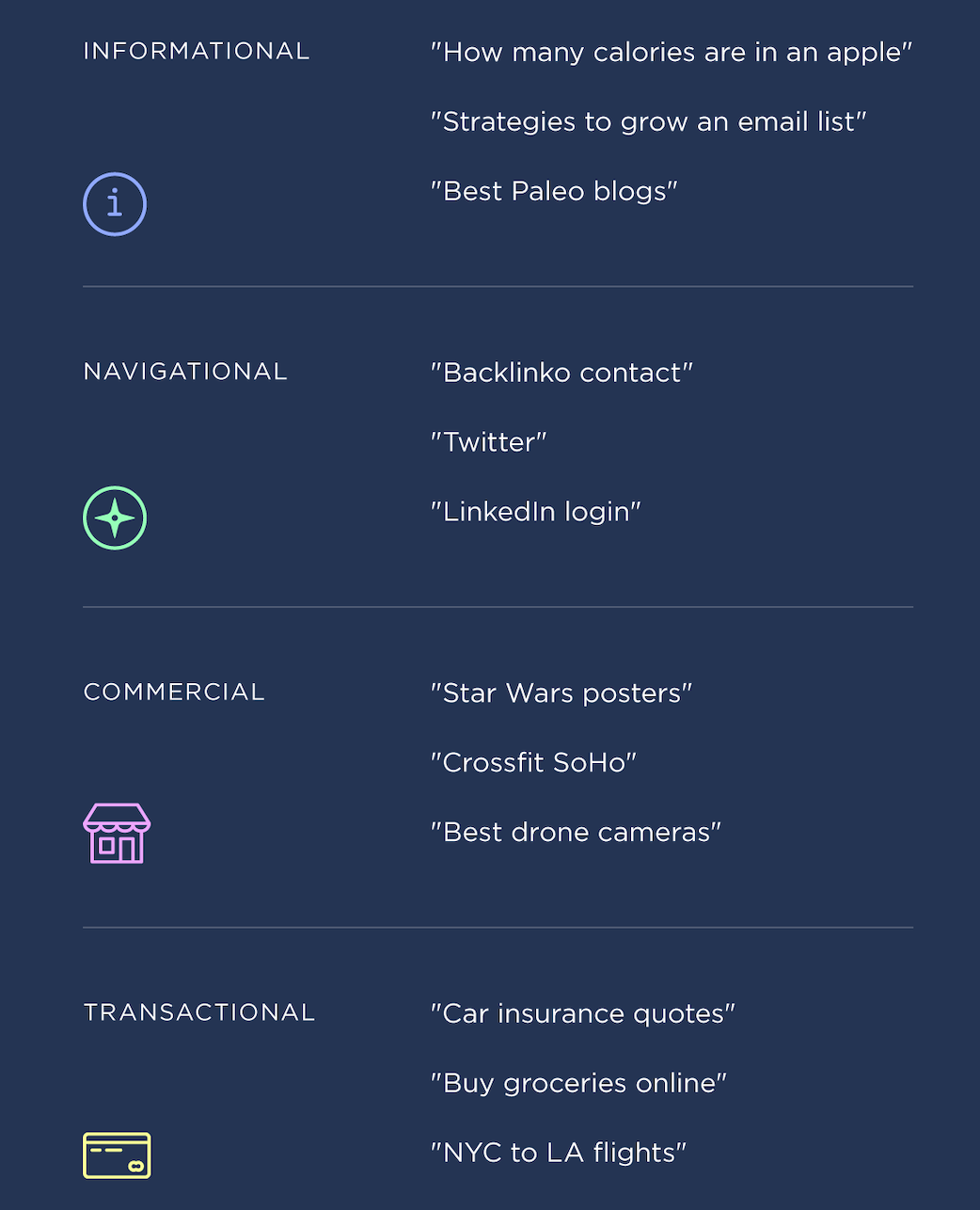 Source: Backlinko
Create more content
If you want to become a leader in your industry, you have to keep creating and sharing content. The four most important rules for content in 2023 are to:
Create multi-use content. Create content around a targeted audience. Create content that considers user intent strongly. Create content pieces that have specific goals or target KPI's.
Sharing content on your own website or blog is the best place to start, but don't confine your reach there. Backlinks are the word-of-mouth of the web, so part of your strategy must be to get other websites to talk about your website. When done right, link building will garner traffic, build credibility, and help your brand rank higher on search engines.
Where link building started:
If you've been in SEO for some time, you may remember the days when guest blogging for new backlinks was a top priority. Find relevant sites, determine domain authority, reach out to buy or trade link space, write a piece, send, and you're done. As simple as that.
But the infamous guest blogging tactic lost its badge of good practice over 5 years ago. Not because Google suddenly decided it's ineffective, but because link-hungry service providers abused the system by paying for link space and sending out any content (good or bad) just to pop a backlink into. This started creating an abyss of content clutter across the internet, which Google put an end to with the 2012 Penguin update.
In a nutshell, if you're paying/being paid for spammy link space, or creating content purely for the sake of a backlink and no other intention or purpose, then you're practising black hat SEO. And that's a no-go.
Do link build. Here's how to do it the right way:
Backlinks remain a significant ranking signal for Google and make a huge impact on a website's prominence in search engine results. There are two ways to look at link building:
Backlinks that come to your site naturally from a relevant and authoritative source. This is more often than not a good backlink. If you want to gain these (otherwise known as editorial backlinks) you have to create powerful, relevant and useful content that other writers, bloggers and marketers will want to refer to in their own content because they found value in yours. Links to external domains coming from your own site. The focus here should be on the quality of the links you include on your site, and not the quantity. Make sure you are linking websites that have authorship, authority and relevance.
When working on your link building strategy, it's important that you find high-quality links to include on your site, and to try land your own links on high-quality sites - organically. Put high-quality links to work by:
Using a trustworthy SEO tool to determine the authority of both the page and the entire domain. Ensuring the site you're linking to has strong relevance to the topic you're discussing. Positioning your links in the body content instead of hiding it in footers or sidebars. Monitoring your backlinks regularly to ensure users aren't going to come across broken links leading from your page.
Understand how nofollow, sponsored, & UGC link attributes will impact on SEO
Four months ago, Google made the big announcement that they will bring significant changes to how "nofollow" link attribute are considered.
The nofollow link attribute is a value that can be assigned to the rel attribute of an HTML a element, instructing search engines that the hyperlink should not influence the ranking of the link's target in the search engine's index.
As of 1 March 2020 Google began treating nofollow attributes as "hints", meaning they may choose to crawl them after all. This is all being done to further fight the war against link spamming.
So which link attribute should you use?
According to Moz, who provides an in-depth explanation on this link attribute change, you can use one of these three attributes to mark your links:
rel="sponsored" - For paid or sponsored links. This would assumingly include affiliate links, although Google hasn't explicitly said.
rel="ugc" - Links within all user-generated content. Google has stated if UGC is created by a trusted contributor, this may not be necessary.
rel="nofollow" - A catchall for all nofollow links. As with the other nofollow directives, these links generally won't be used for ranking, crawling, or indexing purposes.
This infographic gives concise information on how the nofollow, sponsored and UGC link attributes will impact SEO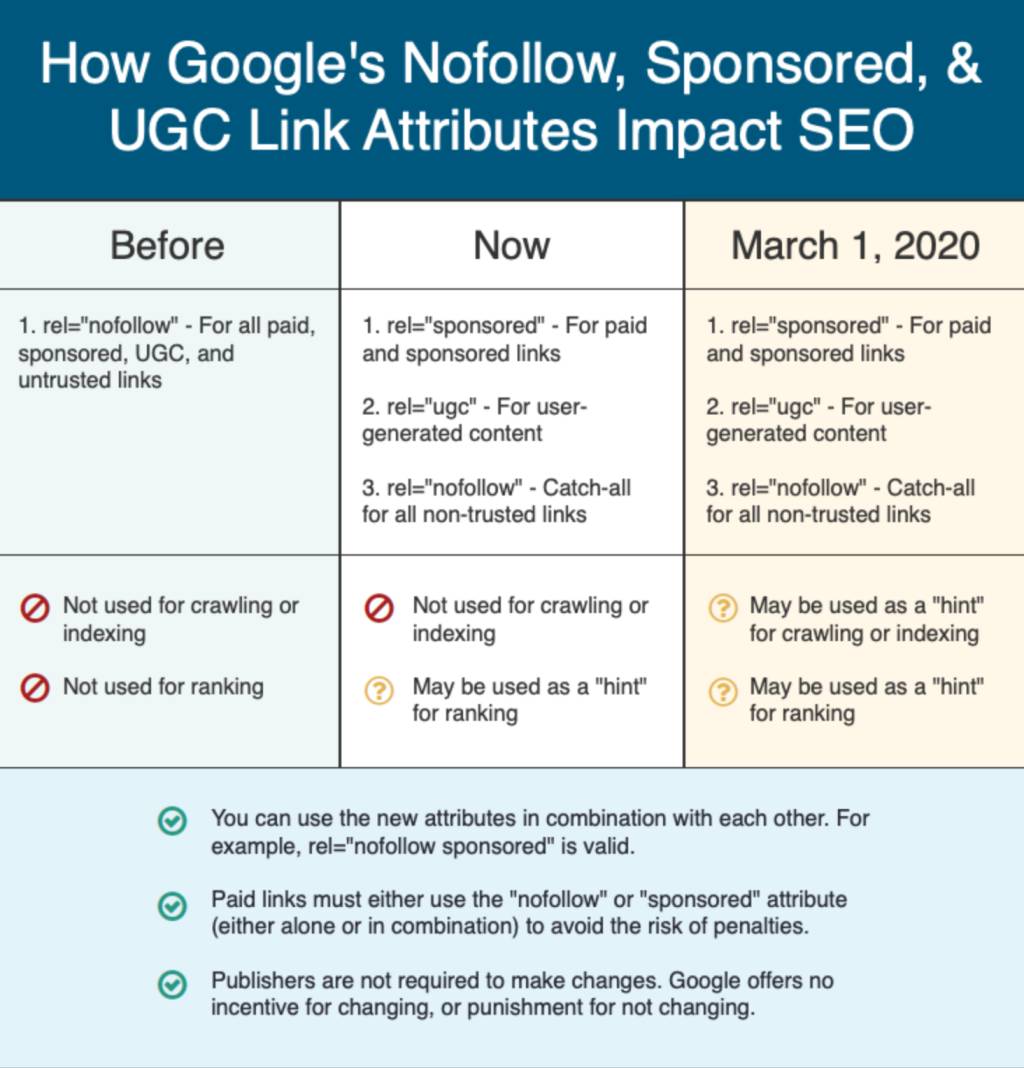 Source: Moz
Side note: link building is crucial for successful SEO, but it can be extremely detrimental to your page ranking if you do it wrong. Make sure you understand Google Webmaster Guideline's on link schemes before you get started).
Wrapping up
So there you have it for keyword research and link-building in 2023: very little to worry about because it's still in your control - but a whole lot to focus if you want to succeed.
For now this should be enough information to help you get started on the foundation of your SEO 2023 content goals. But we have a lot more to share and our job is to keep you informed!
So sign up to our newsletter if you want to stay up to date. It's a good way to understand little trends and things that are going on that can help benefit your business. Or give us a call if you want to get going on your 2023 content marketing plan right away. We're excited to help you grow.