There are many ecommerce platforms now available, to suit all kinds of different online businesses depending on their individual needs. In this series of articles, we'll be comparing some of the main players with the Shopify platform to help merchants decide which one is right for them. In this piece, we'll be looking at Magento (now known as Adobe Commerce) and talking through the main features, benefits, pros and cons compared to Shopify.
Click here to read our WooCommerce Vs Shopify guide.
---
Click the chapter heading in the list below to take you directly to the relevant section of the article.
Shopify Vs Magento Chapters
Chapter 1: Quick Platform Overview
Chapter 5: Customisation and Design
Chapter 7: Development and Coding
Chapter 9: Apps, Plugins, Extensions and Integrations
Chapter 10: Payment Gateways and Transaction Fees
Chapter 11: Content Management
Chapter 13: Shipping and Inventory
Chapter 15: Selling Internationally
---
Chapter 1: Quick Platform Overview
What Is Shopify? Quick Platform Overview
Shopify is an easy-to-use ecommerce solution which enables B2B and D2C businesses to build online stores.
It's flexible and scalable, and thanks to a range of pricing plans, is used by businesses of all sizes - from start-ups to enterprise level. The Shopify App Store enables merchants to increase functionality with hundreds of add-ons.
Security comes in the form of a free SSL (Secure Sockets Layer) certificate - a security protocol that helps protect your online transactions from being intercepted by hackers. SSL is enabled by default on Shopify.
You pay a monthly fee for hosting your ecommerce store on the platform.
What Is Magento Open Source? Quick Platform Overview
Magento Open Source is the free, open-source version of Adobe Commerce, suitable for small businesses.
The platform has the facility to add functionality via Magento extensions (apps).
It has some notable limitations. Compensating for this requires spending on third-party services, so while the platform is free, you need to pay for web hosting and other items so choosing this tier still incurs considerable expenses.
Open Source can be a good option for businesses with staff who can code on the platform and have time to implement and manage the platform, from hosting and support to backend work.
Even with in-house development resources, creating and updating the store takes time, and the increased time-to-market may be prohibitive.
What Is Adobe Commerce (formerly known as Magento)? Quick Platform Overview
Magento (acquired by Adobe in 2018 and now known as 'Adobe Commerce') is an open-source ecommerce platform. The free version is called 'Magento Open Source', suitable for smaller businesses. Adobe Commerce has a licence fee which is a percentage of a business' total annual revenue.
There are also additional costs associated with it: security and extensions (apps that extend store functionality), plus development time to create and update your store.
With hosting and domain registration built in, Adobe Commerce is a good ecommerce solution. However, its pricing may place it out of reach for most small businesses.
Success on Adobe Commerce is dependent on coding knowledge and is therefore more appropriate for larger businesses, with in-house development teams to manage their online stores.
---
Chapter 2: Shopify vs Magento (Adobe Commerce): Ease of Use
Shopify and Adobe Commerce are vastly different in terms of accessibility and ease of use. Adobe Commerce requires web development knowledge in order to be able to use the platform. You are also responsible for arranging your server and hosting, registering your domain name, fixing errors, maintaining updates and ongoing site security.
Adobe Commerce Ease of Use
Setting up Adobe Commerce requires a good level of technical knowledge without which you may be better off considering Shopify. It's important to note that you'll need a developer (or team of developers) who will have time to learn the platform and work on it on an ongoing basis.
Adobe itself does not recommend it as a suitable option for smaller businesses or those with limited technical expertise - it is sold as an enterprise level solution. While it's easier to manage as a going concern once a store has been developed, it will take a lot more time to get up and running compared to a user-friendly solution.
Shopify Ease of Use
Shopify is a much easier ecommerce platform to use, with no specialist developer skills or technical knowledge required. In order to get an online store up and running on Shopify you just need to register an account. You can even try it for free for 14 days (although you can't start trading until you select a plan). In summary, Shopify is suitable for users of all technical abilities, whereas Adobe Commerce (Magento) is for web developers only.
Every aspect of Shopify's dashboard has been designed to enable teams and administrators of all abilities to use it confidently and competently, without spending time on simple tasks in the admin area of the site.
Which Is Easier to Use?
When it comes to Shopify vs Adobe Commerce, Shopify is objectively the easier of the two platforms to use. Shopify is designed in such a way to be a drag-and-drop website builder, which means you can easily customise your store's structure and page layouts by moving elements to fit your requirements.
While Adobe Commerce is more flexible than Shopify (it enables you to customise your store however you like with code) it's much more challenging to use overall - which will make it hard for most users to build and maintain their ecommerce store.
From a UI point of view, both Shopify and AdobeCommece/Magento have a highly engineered and well-developed user interface. Shopify is generally more suitable for beginners, while Magento is generally better for advanced developers.
Shopify offers an easy-to-use interface with a drag-and-drop editor, making it simple to manage products, inventory, and more. Shopify also provides users with a huge library of themes (starting templates), first and third party apps, and other features to customise their store, making it easy to get started with a basic store quite easily and quickly.
Adobe Commerce also has fewer free themes available than Shopify. It is worth noting that while Shopify is less complex to use than Adobe Commerce, that simplicity can sometimes limit how advanced native features are without apps. Of course, with web developers, both platforms can be utilised to create bespoke ecommerce experiences that are superb for customers to shop on.
---
Chapter 3: Time to Market: Is Shopify or Adobe Commerce/Magento Quicker?
In online sales, speed is everything and getting your store live and ready to read is no exception.
Adobe Commerce Time to Market
Adobe Commerce/Magento takes longer to set up and launch than a Shopify store. If you're looking for an ecommerce platform that you can set up and go live with in a day or two, then of these two options, Shopify is the one to go for.
As mentioned in the 'ease of use' chapter, Magento is a dev-required ecommerce platform and it needs to be treated as such. Even for a developer or programmer with experience and knowledge, it can still be a pretty steep learning curve to get the most out of the solution for your business so it will take time for them to be able to create and launch an ecommerce store.
Time to launch for an Adobe Commerce/Magento store is probably around 3 months, depending on scope of requirements, complexity and extent of customisation.
Shopify Time to Market
Shopify is an incredibly easy and user-intuitive ecommerce platform, designed specifically to enable merchants to create and launch a store quickly and be selling online in no time. It's feasible to create and launch your Shopify ecommerce store in a day or two.
As a caveat, this does of course depend on the size of the business and how many products you'll be selling, for example, but a lot of online businesses choose Shopify thanks to its ease of use and user-friendly interface and admin panel.
Shopify stores can also take longer to launch if you want to create a custom store with bespoke functionality. For example if you use a Shopify Plus expert like Eastside Co to create a custom ecommerce experience, you will need to factor in design and development time for the team to bring that vision to life before launch. We've also developed our Accelerator Programme which enables businesses to launch into the ecommerce space on a brand new, lightning fast Shopify store in less than 4 weeks.
Chapter 4: Is Shopify or Magento (Adobe Commerce) More Secure?
Shopify Security
Shopify takes care of the security side for online businesses using its platform. All stores powered by Shopify are PCI compliant (adherence to the set of policies and procedures developed to protect credit, debit and cash card transactions and prevent the misuse of cardholders' personal information). This means payment information and business data is kept safe.
Shopify's compliance covers all 6 PCI standard categories and applies to every Shopify store:
Maintain a secure network
Protect cardholder data
Maintain a vulnerability management program
Implement strong access control measures
Regularly test and monitor networks
Maintain an information security policy
Adobe Commerce Security
When it comes to Adobe's two offerings, Adobe Commerce is more robust than Magento Open Source. Open Source lacks credit card tokenization and advanced payment security (which can be an issue since these are required for secured transactions). The free version also doesn't comply with PCI DSS security.
Adobe Commerce offers more advanced security solutions. The paid version is PCI compliant and has the Magento Secure Payment Bridge for handling card processing. The paid edition also has a vulnerability rewards program (VRP), which offers rewards to individuals for uncovering and reporting software bugs, and has secure third party payment gateways. Additionally, 'Action Logs' means all access and changes made by users with access to the admin panel are recorded for visibility of who has done what and when.
With Adobe Commerce/Magento, the installation of individual patches requires thorough testing and a robust deployment plan. Patches are regular and this can add to costs.
Hackers aggressively target Adobe Commerce products. This page on the Magento website shows the regularity of security patches being rolled out which can be costly for businesses on the platform to keep up to date with.
---
Chapter 5: Which Is Best For Customisation, Design and Themes: Shopify or Adobe Commerce?
The ability to design and customise your website to create a unique brand experience and drive more sales is key for any ecommerce store. Both Shopify and Adobe Commerce/Magento offer a wide range of themes and responsive starting templates.
Shopify has an extensive library with free themes, and ones you can buy that go up to $380, to use as starting points which can be customised.
Customisation is also possible through use of the free and paid for apps and plugins which are available for both platforms to extend functionality.
Adobe Commerce has the ability for more customisation and flexibility thanks to being open source, but as mentioned, this means more development knowledge is required. Similar to Shopify, its starting templates are available for free, with paid versions going up to around $200, available in the Adobe Commerce Marketplace.
While there are fewer free Shopify themes compared to those available for Adobe platforms, they are typically of a higher quality than the free Adobe Commerce/Magento themes. Templates for both platforms are modern and fully responsive across all digital devices.
Effectively, there's a trade-off between full flexibility requiring development knowledge (Adobe Commerce) and less flexibility which can be used by less technical people (Shopify). Even though this is the case, Shopify has designed its admin panel and UI in such a way as to mean you can change fonts, colours, images, logos and layouts really easily with some drag and drop functions.
Whichever Shopify template you use, you have the option to adjust how the layout looks, and you don't need to know code or have any technical knowledge. Its native theme editor allows some flexibility in changing the appearance of the theme. You can add different content sections to your homepage, like carousels for product images.
If you want to customise your Shopify layout any further than this, then it is possible, but you will need to understand HTML, CSS and JavaScript. With all that said, if you want a Shopify store that goes above and beyond theme builds to create a unique ecommerce presence but don't have the technical knowledge required, you can always work with a Shopify Plus Partner like Eastside Co who have in-house design and development teams to create bespoke stores.
Adobe Commerce wasn't designed for small businesses with limited resources and knowledge. It was designed for those that either have the time, resources and knowledge, plan to grow their business quickly or those that want to take an established, enterprise brand to the next level.
---
Chapter 6: Which Has Better Sales Tools - Shopify Or Magento (Adobe Commerce)?
Shopify
Shopify has multi-channel selling so you can sell products beyond the constraints of your Shopify store, including on other platforms like Amazon, Facebook, Pinterest, and Instagram.
You have the ability to sell digital products (as well as physical ones).
Partnerships with fulfilment partners including USPS, DHL Express, UPS, and Canada Post save you the hassle of finding your own courier service.
Adobe Commerce
Adobe Commerce also has multi-channel selling options - it's possible to install extensions on the store to integrate with Facebook, Instagram, and eBay
Abandoned cart recovery
Checkout customisation means you can create a unique, bespoke checkout for your online store
Set percentage and fixed price discounts
Point of Sale (POS)
Shopify has standalone point-of-sale (POS) software with inventory tracking, analytics and staff management functionality. Merchants can create seamless omnichannel processes and fulfil orders through local pickup, local delivery and buy online, pick up in-store or curbside. Shopify merchants can also get a POS kit which includes a card reader, receipt printer and barcode scanner.
Adobe Commerce offers POS systems through its extensions. As it is designed for primarily enterprise businesses, it comes with integrated B2B functionality. This allows customers to manage their company accounts, specify tiers of buyers, log quotes and manage their credit within the platform.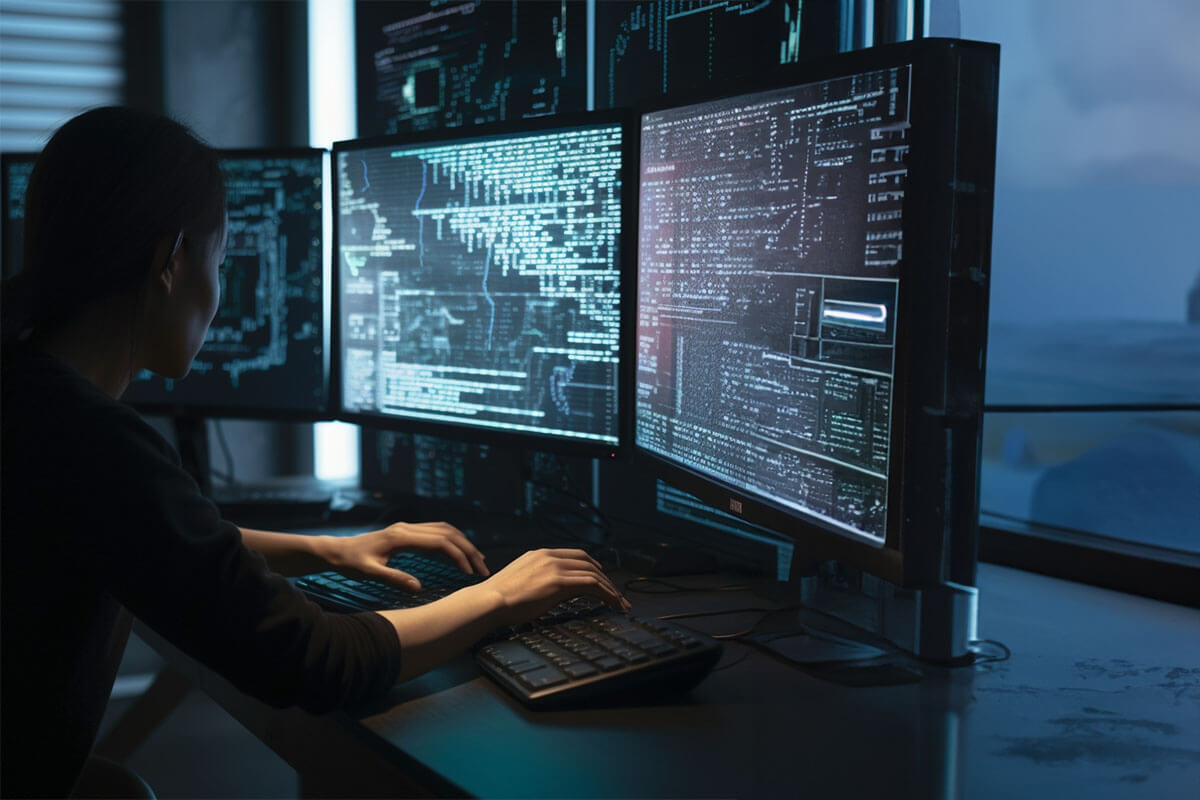 Chapter 7: Best for Development and Coding: Shopify or Adobe Commerce?
Both Shopify and Adobe Commerce can be tailored by web developers to create bespoke ecommerce experiences. When combined with third party plugins and apps available for both platforms, this enables bespoke ecommerce experiences to be created on both Shopify and Magento.
Adobe Commerce and Shopify are different beasts regarding development and coding. Magento uses PHP which is a server-side language and widely-used by web developers. Shopify uses a language called Liquid. Liquid is an open-source language created by Shopify. It forms the foundation of Shopify themes and is used to load dynamic content on storefronts. Both PHP and Liquid are solid programming languages for ecommerce sites.
As well as the difference in languages used, there is also a major difference in the level of development knowledge and resources required to make effective use of the two platforms.
Coding On Shopify
As discussed, Shopify stores are simple to set up with no coding knowledge. However if an online business wants a custom store that will really represent the brand and help it stand out from the crowd, it would be beneficial to partner with Shopify developers to create a unique ecommerce experience.
Coding On Adobe Commerce/Magento
It's not really possible to whip up an Adobe Commerce store in a day or two like you can with Shopify. Adobe Commerce/Magento requires a lot more coding knowledge and is therefore better suited for larger ecommerce businesses with access to a professional web development team.
---
Chapter 8: Shopify Vs Magento/Adobe Commerce: Marketing Features
Adobe Commerce Marketing Features
Adobe Commerce has some native marketing features - for example, you can offer discounts or free shipping on your own terms, by segmenting your customer base to determine who is eligible.
Discounts can also be applied specifically for customers buying in bulk, which makes Adobe ideal for B2B or wholesale companies.
There's also the ability to create email newsletters to send to your customers, and bespoke email templates are also possible - although you'll need a working knowledge of HTML. Alternatively it;s possible to integrate with third party platforms for email marketing.
There are some surprising omissions on the Adobe commerce/Magento platform though, for example there's no blog provided in its native functionality.
Shopify Marketing Features
When it comes to Shopify, the platform also gives merchants the option to create discounts and offer them to certain segments of customers.
A blog also comes as standard, which can help attract traffic and increase your audience and sales.
In addition, you'll have access to reporting and analytics in the dashboard to help direct your marketing campaigns.
Shopify has released 'Sidekick' - a commerce assistant that combines advanced AI technology and Shopify's data to offer personalised, contextually relevant support for a range of tasks, from building a store, to marketing, to customer support and back office management. It saves you trawling through help docs - you can simply ask it questions like 'what kind of discounts can i implement?' and it will let you know. As well as answering help questions, it will do things like set up discounts for you across your store. In addition to this, it can amend your store by responding to requests like 'make my theme look like summer' and it will refresh the look of your store accordingly.
Shopify Email lets businesses create automated workflows and templates, for strategic campaigns delivered to the right customers at the right time. It helps improve communications with your customer base to encourage more sales.
It's also an option, as with Adobe Commerce, to integrate with third party email and marketing platforms such as Klaviyo to go beyond what is available natively on the platform.
Finally, there are lots of agencies who are able to support ecommerce businesses with marketing services and cover tactics such as Google Ads, email marketing, SEO, PPC and more.
---
Chapter 9: Apps, Plugins, Extensions and Integrations - Shopify Vs Magento/Adobe Commerce
Shopify Apps
The Shopify App Store has over 8,000 apps available from Shopify and third party developers, all of which enable you to customise your store with additional features and functionality. Every app on the store is reviewed by Shopify with a rigorous 100-point checkpoint review before being released.
Price-wise, there are many that are free (or have free versions with stripped back functionality), some that require a one-off fee to install, and some that have a monthly or annual subscription cost. There are apps to improve search functionality, increase upsell, improve store design, manage orders and shipping - you name it, there's probably an app for it. Here's a list of 99 Shopify apps to give you a flavour of what's available.
Adobe Commerce/Magento Extensions and Plugins
Magento Open Source and Adobe Commerce store owners have access to approximately 4,000 plugins and extensions in the Adobe Commerce Marketplace. These plugins are built by a community of partners and are tested and verified by Adobe before appearing in the marketplace. The store has a similar range of categories as the Shopify App Store such as marketing, customer support, shipping and site optimisation, and prices for these extensions range from free, going up to $15,000. These items may be one-time costs or they may be monthly or yearly subscriptions.
---
Chapter 10: Payment Gateways and Transaction Fees
Payment gateways, also known as online payment processors, are integral to every online store. Without them you wouldn't be able to take payment from your customers - they essentially communicate transaction information between online businesses and their customers.
Shopify Payment Gateways and Fees
Our piece on Shopify payment gateways talks through some of the options and prices available on the Shopify platform.
Shopify has its own payment processor, Shopify Payments, which has no transaction fees (except the normal credit card processing fees).
Shopify also integrates with over 100 third party payment gateways, offering a lot of flexibility to brands on the platform and their customers. These gateways include names like PayPal, Stripe, Amazon Pay, and Apple Pay. Each payment gateway has its own pricing structure and level of accessibility, so considering integrating multiple methods is often better for more flexibility. It's also key to consider transaction fees when using payment platforms, as some can be more expensive than others. (Third-party payment gateways tend to have a transaction fee.)
Our full guide to Shopify pricing talks through all the plan prices and transaction fees in detail.
Adobe Commerce/Magento Payment Gateways
Adobe Commerce/Magento supports over 100 payment gateways, but many, like WorldPay, are aimed at large businesses. It is possible, however, to integrate Adobe stores with the more common payment processors like Stripe or Square via the Adobe Commerce Marketplace.
Shopify offers an integrated POS system (mentioned in the 'sales tools' chapter), while Adobe Commerce/Magento does not - although it has functionality via an extension. Shopify POS can be invaluable to ecommerce stores that also wish to sell products in person via pop-up shops or physical stores.
Adobe Commerce/Magento also allows you to sell directly through Amazon while using your own Magento-based inventory which allows businesses to reach many more customers via the Amazon marketplace. However, you do sacrifice some brand equity by selling on Amazon and there is a cost associated with this.
Chapter 11: Content Management for Shopify and Magento/Adobe Commerce
Shopify Content Management
Shopify has a built-in CMS (Content Management System) that allows online retailers to run and manage their own blog. You'll find the simple editor allows you to change headers, change typeface, add links, include images, and many more. An ever-growing set of features allows admins to create, edit, manage, and publish content across blogs, product and collection pages, and more.
Adobe Commerce Content Management
With Adobe Commerce/Magento, to create a blog you'll likely need to include a third-party Magento extension for the same effect. Adobe Commerce does have a decent content management system, however, featuring easy-to-use page builder capabilities, support for diverse content types, and a WYSIWYG editor.
Both platforms are infinitely scalable and can easily handle as many products as a business could ever need.
---
Chapter 12: Which Is Best for SEO: Shopify vs Adobe Commerce?
Search engine optimisation (SEO) is absolutely critical when starting an online store. Shopify has traditionally been criticised for not being the best platform out there when it comes to SEO - but in the last five years it has made huge improvements in how you're able to manage SEO on the platform, both natively and through apps. It comes with the main SEO options as standard, such as customisable title tags, 301 redirects, automatic sitemap generation, the facility to add meta descriptions, meta titles and more, allowing you to optimise your website for search.
Shopify has built-in SEO features such as meta descriptions, meta titles, and more allowing you to optimise your website for search. Merchants can also add additional features through an app on the Shopify App Store. Features like Shopify's content management system allow people to build their own blog on their website to improve search engine rankings.
(For a deep dive into SEO on Shopify, our experts compiled the ultimate guide to SEO on Shopify which is available to read for free and covers everything from site optimisation and apps to tracking and canonicalisation.)
Adobe Commerce/Magento performs well in SEO, and comes with plenty of SEO guides and prompts to help you get started. You can customise URLs to help search engine users find your web pages more easily.
---
Chapter 13: Shipping and Inventory - Shopify or Magento/Adobe Commerce?
Shipping and inventory management is key when it comes to selling physical goods via ecommerce stores.
Shopify Shipping gives industry-leading discounts on DPD and Evri rates, it enables merchants to print shipping labels in Shopify so packages can be prepared in advance, and it enables businesses to fulfil orders from the same place as products, customers and inventory is managed. It also gives the facility to pass discounts on to offer competitive rates, fulfil orders in bulk and make improvements to reduce expenses thanks to integrated analytics and insights.
Adobe Commerce/Magento has more comprehensive inventory and order management features than Shopify. Extensions combined with the inherent flexibility of the platform let businesses create unlimited product and collection types, as well as adding custom fields to the checkout.
All Shopify plans allow unlimited product numbers, as does Adobe Commerce. Both platforms make it simple to create products and collections, but Shopify has the edge due to its direct interaction with dropshipping inventory apps like Oberlo (see below).
As Shopify is fully hosted, there are no problems with high traffic or orders which can cause Magento to encounter problems. For example, before Gymshark replatformed to Shopify Plus, their Magento site that cost hundreds of thousands of dollars to build and maintain crashed on the grandest stage of all for a retailer: Black Friday. The site was down for eight hours and cost Gymshark an estimated £100,000.
What About Dropshipping?
Entrepreneurs can dropship on both Shopify and Adobe Commerce/Magento.
On Magento, users interested in dropshipping are expected to pay a flat rate of $249 USD for the Dropship extension.
On Shopify, users can choose from multiple dropshipping companies. For example, Oberlo (which is owned by Shopify) has a forever free plan allowing you to dropship without any monthly subscription fee. Shopify also integrates with dropshipping solutions and more precise shipping calculators.
---
Chapter 14: Which is Best For Scalability - Shopify or Magento/Adobe Commerce?
Shopify Plus is built to scale with businesses using the platform. It can manage stores with a lot of traffic, making it suitable for any brand with big plans for growth. With Shopify Plus, you can focus on growing your business without having to take into account server management, performance issues or your business becoming too big for the platform to handle.
Adobe Commerce/Magento is designed for enterprise businesses, but requires additional investments in infrastructure and technical expertise to ensure optimal performance (see the cautionary tale about Gymshark's Magento site failing in the 'shipping and inventory' chapter).
Shopify Plus can handle the growing demands of large businesses without changing anything, while Adobe Commerce requires ongoing effort and maintenance to ensure stability and performance under pressure.
---
Chapter 15: Is Shopify or Adobe Commerce/Magento Best For Selling Internationally?
When it comes to international commerce, both platforms cater for businesses that are looking to expand into new territories, with options to support them and help them manage issues like different languages, taxes and audiences.
Shopify Plus is designed for businesses of all sizes, from start-ups to brands engaged in global commerce, and it is constantly releasing features like Shopify Markets to help merchants sell in new territories and markets with ease.
Adobe Commerce/Magento offers multi-language support, but as might be apparent at this point, setting up the platform in the first instance requires more developer knowledge and support and can be more technically challenging, so it's something many businesses are not willing to take on.
We've written the Ultimate Guide to Going International on Shopify, covering key topics like: when you should make the decision to go international; what costs are involved; what you need to succeed in a new market; understanding the competition; adhering to rules and regulations; streamlining sales; and much more. We also have a full guide to hreflang on Shopify which can help solve SEO challenges when it comes to expanding into new markets.
Chapter 16: Shopify Help and Support Vs Magento/Adobe Commerce
Shopify's customer support is accessible 24 hours a day, available via live chat, email, phone or Twitter. The Shopify Help Center also has a wealth of guides and useful information, and for Plus merchants there is the Merchant Success Program which provides merchants with exclusive access to resources, tools, and insights to encourage growth.
In comparison, Adobe Commerce provides very little in the way of customer support. There is no live chat, email, Twitter or telephone support. There is the Adobe Commerce Help Center, however, which is similar to the Shopify Help Centre - it's populated with tech resources, forums, developer documentation, user guides and support tools.
If you do decide to use Adobe/Magento, then you will need to have an experienced developer on hand to help resolve any issues due to the complex nature of Adobe Commerce compared to other ecommerce platforms.
In terms of support, Shopify is best for smaller businesses that may require additional support and assistance, while Adobe Commerce/Magento might be better for companies with more in-house resources and technical knowledge.
---
Chapter 17: Shopify Vs Magento/Adobe Commerce: Pricing
Shopify Pricing
Shopify's Basic plan starts at £19 per month. This allows you to set up your ecommerce store, access various sales channels, create inventory locations and feature unlimited products.
The core Shopify plan is available for £49 per month, with Advanced coming in at £259 per month.
For a full breakdown of Shopify's various plans, features, benefits and pricing, check out our comprehensive guide to Shopify pricing.
Adobe Commerce/Magento Pricing
It is necessary to contact Adobe Commerce for an individual quote but the paid version of the platform has a licence fee which is a percentage of your total annual revenue.
Magento Open Source (the free version of Adobe Commerce) doesn't include some key features that are included in Shopify's package. These include domain registration, web hosting, and some security features. Purchasing a domain name can cost between $10 and $20 (£8 to £16) per year. Web hosting typically ranges from $10 to $30 (£8 to £24) per month while a Secure Sockets Layer (SSL) certificate for online store security costs between $200 and $600 (£160 and £480) per year.
When it comes to ongoing costs, on average, you can expect monthly Shopify Plus site management to be between £2,000 and £4,000, while Adobe Commerce comes in at between £8,000 and £12,000 per month.
Total Cost of Ownership
| Metrics | Shopify | Adobe/Magento |
| --- | --- | --- |
| Ongoing Support | Shopify is designed for large brands but also entrepreneurs so the amount of ongoing support and development work is meant to be minimal. Typical ongoing Shopify costs are $30K-$50K per year (£23k - £39k) | Required for future phase releases / UI changes and other tasks. Typical ongoing Magento costs are $150K-$200K per year (£118k - £157k) |
| Security Patches | This is included in the Shopify platform fee | Installation of individual patches requires thorough testing and a robust deployment plan. Patches are regular and this can add to costs - hackers are aggressively targeting Magento 1 and Magento 2. Look at the number of Adobe security patches released |
| Upgrades | This is included in the Shopify platform fee | Upgrades often require redevelopment of existing code, significant usability, performance and load testing. Some upgrades can take months. |
| Testing on New Releases | This is included in the Shopify platform fee | Performance and load testing tools and resources are required before each release. This requires software and an SME or team experienced in a performance test. |
---
Chapter 18: FAQs - Shopify Vs Magento/Adobe Commerce
| Key feature | Magento (Adobe Commerce) | Shopify |
| --- | --- | --- |
| Web hosting included | No | Yes |
| Unlimited products | Yes | Yes |
| First party POS system | No | Yes |
| +100 payment gateways | Yes | Yes |
| Unlimited bandwidth | No | Yes |
| Integrations | Over 4,000 | via plugin |
| 24/7 support | No | Yes |
| Free subdomain | No | Yes |
| No-code store builder | No | Yes |
| Free SSL certificate | No | Yes |
| Includes blog | No | Yes |
| Staff accounts | Over 6,000 | Yes |
| Detailed sales reports | No | Yes |
| PCI-DSS compliant | No | Yes |
| International payment processors | Yes | Yes |
| Built-in fraud protection | Yes | Yes |
| Mobile app for store owners | No | Yes |
| Open source | Yes | No |
My business is already on Magento/Adobe Commerce. How easy is it to migrate to Shopify?
At Eastside Co, we've migrated dozens of businesses from other platforms, many of which were on Magento. We've created a robust set of processes for migrating to Shopify which includes the following:
Project Manager allocated as your main contact
Data analysis and site audit undertaken
New site structure defined
We fully manage the domain setup
Redirects and 404 errors taken care of
Content optimised to maintain traffic
We migrate your orders, customer and product data
Tracking and measurement is put in place
We manage the site launch
If you're looking to replatform, get in touch with us and we can talk you through our process.
Which is better for SEO: Shopify or Magento (Adobe Commerce)?
Shopify is better for SEO due to its fast site load speed, SEO functionality, and large volume of apps. Unlike Magento, Shopify also has a built-in blog component that you can utilise to create search-based blog posts to improve your search rankings.
What is the difference between Magento (Adobe Commerce) and Shopify Plus?
The main difference between Magento and Shopify Plus is that Magento is open-sourced. While Shopify Plus is not, Shopify Plus includes hosting, advanced security features, and lower transaction costs which means it's a better platform choice for enterprise businesses.
Which site is easiest to use: Magento (Adobe Commerce) or Shopify?
Shopify is easier to use and thanks to its no-code store builder. It needs no development knowledge to create a store and empowers anyone to start their own business. The theme editor allows you to easily customise your online store your way in only a few simple steps. Magento is a more flexible tool because it is open-sourced but this means you need specialist developer knowledge to create and develop stores.
Which is better: Shopify or Magento (Adobe Commerce)?
Magento is a good platform for teams with their own in-house developers. Shopify is better for businesses ranging from small to enterprise, while remaining accessible to non-developers. Shopify also offers hosting, unlimited bandwidth and online storage in all plans. It is necessary to source your own hosting and cloud storage from Magento. As your business scales, the cost for hosting and storage will likely increase if using a third-party while on Magento.
What are Magento (Adobe Commerce) and Shopify?
Magento and Shopify are online ecommerce store builders. Shopify allows you to build and grow an online store. With Shopify, you won't need to know how to code, allowing you to launch your store quickly. Magento (Adobe Commerce) is more customisable but requires more technical knowledge.
What's the difference between Magento Open Source and Adobe Commerce?
The main difference between Magento Open Source and Adobe Commerce is that Open Source is available for free. Adobe Commerce is a paid-for option. It includes features that you would need to build or source yourself if using the free Magento Open Source.
What is the best platform for ecommerce: Adobe Commerce (Magento) or Shopify?
Shopify's mission is to make commerce better for everyone. Whether you're launching a business for the first time or are an existing enterprise looking for a new solution, Shopify offers features that allow you to successfully run and scale an online store. All plans come with unlimited products, unlimited bandwidth and online storage, Shopify Point of Sale (POS), gift cards, fraud analysis, and much more.
Why should I choose Shopify?
Ecosystem - Shopify has the largest ecosystem of apps and pre-built integrations in the entire ecommerce space - third parties develop for Shopify first.
Ease of Use - Shopify Plus is a system easily used and maintained by business users, not requiring developers to consistently update for new integrations or features.
Suitability for larger merchants - On the Plus enterprise plan, there are nearly 20,000 merchants.
Checkout Optimisation and Conversion - Shopify's checkout has been designed, refined and optimised to be the best checkout for conversion globally.
Shopify Payments and Shop Pay - Shopify Payments as both a conversion and an accounting tool is incredibly popular.
Powerful set of native features out of the box.
Why would I choose Magento (Adobe Commerce)?
Magento used to be a free platform but the Adobe Commerce pricing model works on a sliding scale, based on a merchant's gross sales revenue. It can start from £17,000 per year, but can easily reach £80,000 per year if you need to add specific features or if your business makes a high number of sales.
There are no proprietary restrictions which gives higher adaptability - as long as you have money or development resources to take advantage of this.
Magento/Adobe Commerce's popularity and open source philosophy means that there is a massive online community of users. These vary at all levels including website owners, admins and developers, all keen to share their knowledge and collectively find solutions to any difficulties they face. It's never hard to find the answer to any question.
As an enterprise class ecommerce solution, many systems can be integrated with Magento/Adobe Commerce. ERP systems, payment gateways and finance solutions are just some of the tools that can be integrated with Adobe Commerce, with the help of extensible API.
---
If you'd like any advice about moving from Adobe Commerce to Shopify; if you're looking to launch a new Shopify store; if you need marketing support or if you need any ongoing Shopify services - get in touch and have a chat with one of our ecommerce experts.
To stay up to date with all things ecommerce, make sure you subscribe using the form below to receive our weekly newsletters, guides and advice.