Subscription ecommerce is growing at an exponential rate. According to Forbes, it is expected to reach $904.2 billion by 2026.
Research conducted by McKinsey & Company shows that 15 percent of online shoppers have signed up for one or more subscriptions to receive products on a recurring basis, frequently through monthly boxes.
---
Subscription ecommerce is a superb model for many D2C businesses, as it gives customers the flexibility they want while helping Shopify merchants improve their business forecasting and increase stability through higher levels of recurring revenue. When executed correctly, an ecommerce subscription model can help you grow your Shopify business in leaps and bounds.
Some Benefits of Subscription Ecommerce
Increased customer retention and loyalty
Increased possibility for cross-sell and upsell
Better business stability
Consistent recurring revenue flow
Check out this article from Recharge for more detail on the benefits of the subscription model. In the meantime, we've taken a look at some of the most successful subscription brands on the Shopify platform. Check them out to learn what it is they do so well that has made them market leaders, and see if a subscription model could work for your business.
---
Top Ecommerce Subscription Brands on Shopify
One key tip when setting up a subscription-based business is: 'sell something people will always need'. There's always a bum that needs wiping or a nose that needs blowing, so this toilet paper brand is guaranteed an audience.
It stands out from the crowd by taking a sustainable and eco stance: a B-Corp certified company, its products are plastic-free and made with sustainable materials; it donates 50% of its profits to clean water and sanitation non-profits, and its branding is fun, cheeky (cheeky!) and colourful.
It makes subscriptions a breeze by giving a discount on a longer commitment and gives an indication of how regularly you'll need a shipment, based on the number of people in the household.
It also deals elegantly with a number of objections businesses get from customers afraid to commit to a subscription. For example, you can adjust the shipment frequency in the portal, cancel and modify at any point, and also they warn you 3 days before each shipment so you can delay it if you don't need your next batch yet. Basically making it very easy for the customer.
Huel has taken the world by storm with its convenient, tasty and nutritionally complete meals. It has a dedicated page on its site explaining how their subscriptions work and they have made it very flexible in terms of pausing, cancelling and adding products.
An easy to manage portal through Recharge Payments which gives the customer full control and a discount for not just making a one-off purchase, means the decision to subscribe is a no-brainer. (Their free delivery could help clinch the deal for some customers as well.)
Wild Deodorant was launched in 2020 with a bespoke subscription portal using Recharge Payments, expertly developed and integrated by Eastside Co, one of the top Shopify Plus agencies (it's our blog, so we might as well give ourselves a shout out). The portal is beautifully elegant, pleasing on the eye and guides the customer through the process from picking a case, to a scent, to a subscription plan.
Check out our Wild Deo Shopify site build case study which looks at how we built the site for Wild and made them transactional. It also features a video interview with one of the brand's co-founders, Charlie Bowes-Lyon.
This brand provides toys and accessories 'designed by experts for your child's developing brain'.
Their subscription service works in tandem with customers' children's development: the Play Kit subscription program delivers stage-based play products directly to the customer's door every 2 to 3 months, depending on the child's stage of development. They've done the research to develop products that are right for the child's development stage by stage, accompanied by an in-depth Play Guide that helps the parents learn right alongside their baby.
One of my personal favourite subscription-based brands on Shopify, this is one of the original beer subscription companies, and has inspired many similar services from other beer providers, but Beer52 endures. A prominent countdown on the homepage encourages you to order quickly to get delivery sooner, and a points system lets you earn rewards over time.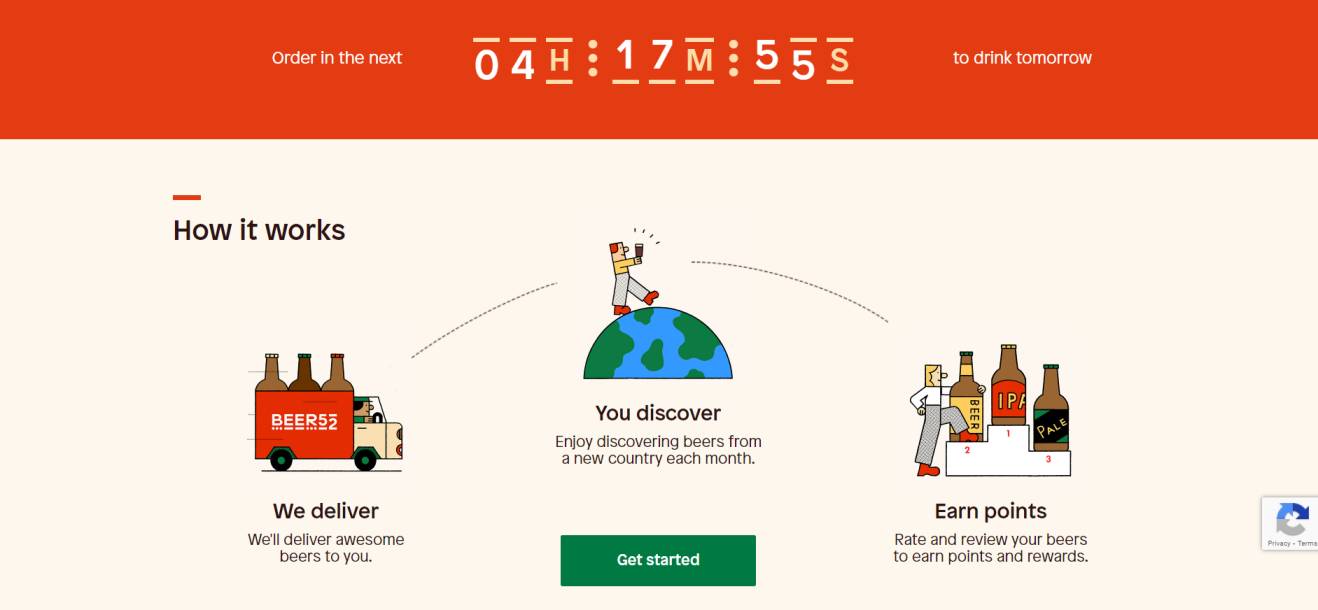 One criticism of this company is that while you can pause a subscription easily enough, you can only do it for one month before it resumes automatically. They have also made it incredibly difficult to actually cancel your subscription with no obvious option available on the site.
Next up we have a sock subscription brand on Shopify. The portal makes it easy to select whether you want monthly socks on an ongoing basis until you cancel via SMS or email, or you can opt for a 6 month or 12 month subscription.
This sock subscription box was founded in 2012 by five best friends. Foot Cardigan has shipped over 1,000,000 pairs of striped socks, graphic socks, patterned socks, fuzzy socks, and more to over 30 countries around the world. In addition to their sock club, the sock store offers over 100 sock designs to choose from. Whether you want funny socks or simple no show socks, they have your feet covered.
This is a chocolate subscription business on Shopify that puts sustainability and welfare at the heart of its brand.
"We're Hu as in HUman. That means we put the health, welfare, and happiness of humans above all else in the food we make. Sourcing only simple, clean, and responsible ingredients so that all people can get back to feeling human. We go beyond what's easy and expected to ensure that our products and our practices are ethical and put both humanity and the human body first."
A clean, easy to use portal enables customers to choose the product, pack size, frequency (with savings for subscribing of course), plus an attractive product gallery to entice, including Fair Trade and organic credentials. It also has the option to split payments using afterpay.
This eco-friendly Shopify brand has subscription-based boxes delivered to help people live a plastic-free life. The theme of the boxes changes each time and encompasses everything from toothbrushes and shampoo to vegan food wraps and cleaning products.
A Recharge payment portal enables customers to select frequency and whether it is intended as a gift. Citations from The Guardian, Washington Post and others help give the brand credibility.
This is another one by Eastside Co - a superb subscription coffee brand that we helped replatform onto Shopify 2.0. We integrated several third party solutions, including Recharge for subscriptions, LoyaltyLion for the loyalty programme and Gorgias for customer service.
Our marketing support helped increase sales by 23% and average order value by 4%. Check out our case study to learn more about the brand and how we helped them improve their results.
Partake gives peace of mind to people with dietary restrictions, as none of their products contain any allergens. All offerings are certified gluten-free, non-GMO, vegan and are free of the top 9 allergens (wheat, tree nuts, peanuts, milk, eggs, soy, fish, sesame and shellfish).
The site looks great with a colourful, clean design, and a Recharge portal enabling customers to easily choose a one-off purchase, or opt for subscription to save money and take care of future purchases.
Family Dinner uses Bold subscriptions to power its weekly food subscription box service on the Shopify platform. They support small, local farmers and food purveyors while minimising waste (and maximising taste). Their mission is creating community around local food and the people who grow it.
Flexibility in the system means you pay and choose the items in your subscription, week-to-week. If you're travelling or already have enough food, you can skip weeks or cancel your subscription as needed. This kind of transparency is something that should be a given for all subscription businesses, but this isn't always the case.
Since it was founded in 2012, Candy Kittens has evolved into a 100% vegan brand that can now be found across the UK & the world.
The Recharge portal on this Shopify store makes it easy to choose product and frequency of delivery with a sweet deal for first-time buyers.
Add in a referral scheme and incentivised loyalty programme, and you have a recipe for keeping people coming back time and time again.
We'll finish with an up-and-coming wellness brand that we helped launch onto Shopify 2.0, using our Accelerator Programme which lets brands get trading online in just 4 weeks.
Clear product descriptions and ingredients lists are important for brands in this space so they are prominent on the product page. A 20% discount helps entice people to subscribe rather than buy a one-off product and a Yotpo integration also enables the brand to prominently display customer reviews for added social proof.
Our case study gives more information about the brand and how we helped bring it to life on Shopify.
---
If you're looking to launch a subscription brand or enhance your current offering with a recurring purchase model, why not get in touch with us and have a chat with one of our business team? We'd love to talk about how we can help you grow your Shopify brand.
---
To stay up to date with all things ecommerce, make sure you subscribe using the form below to receive our weekly newsletters, guides and advice.