Shopify is the world's platform of choice for ecommerce stores. From fashion and accessories to health and beauty and beyond, Shopify is used by millions of merchants to establish their brand on a global scale.
We've looked at the top 20 best health and beauty brands that are using Shopify; there are some household names, TikTok viral brands, and up-and-coming stores too! You might be surprised by just how many of these Shopfiy merchants that you use every day. If you're looking for a new ecommerce presence, check out our Shopify development services.
---
The Beauty Crop is a fantastic beauty brand which was founded in 2015 offering makeup and skincare solutions which derived from a passion for healthy living. A vegan company inspired by vegan foods, this cosmetics and beauty store has seen phenomenal growth over the years with a dramatic increase thanks to a number of their products going viral on social media.
The Beauty Crop works with influencers to push their brand and create a community of people interested in natural, vegan and cruelty-free beauty products. From avocado primers, to coconut setting sprays, the natural glowy brand has seen great success on Shopify. The ecommerce platform lends itself perfectly to UX and their website is focused on generating online conversions through clever product placement.
The Beauty Crop also uses our partners Klaviyo. Klaviyo is a marketing automation platform which can be seamlessly integrated into Shopify stores so that your customers can experience a consistent experience from initial contact with the brand through to purchase and beyond.
Founded in 2008, Morphe quickly became known for their specialist makeup brushes, used by both makeup artists and makeup fanatics alike. As a brand, Morphe aimed to create beauty products which were created by makeup artists for makeup artists without the price tag. Over the years through the power of Shopify they have been able to expand their product range beyond makeup brushes to eyeshadows, lip colours, blush, foundations and more.
Morphe uses the platform to sell their products across a number of different territories using multiple different currencies and languages. Shopify Plus helps brands to branch out into the global marketplace - explore more on internationalisation in our Ultimate Guide!
Born in California in 2014, Colourpop is a cosmetics brand which brings customers high pigmented eyeshadows whilst also being completely cruelty free. This unique brand sells exclusively through the online marketplace so having a platform which is truly reliable is a must. Shopify Plus has a 99.99% uptime, meaning that you will never miss a sale due to server error.
Part of being an exclusively online company means that online and digital marketing quickly becomes your best friend. And a large part of this is user generated content (UGC) - Colourpop has an integration with Yotpo. Yotpo encourages and serves UGC to potential customers to help improve online conversions.
Tropic is a beauty and wellness brand that specialises in skincare for all skin types, age and genders with a mission to be sustainable and eco-friendly. The all-natural promise means that the ethics behind Tropic sell themselves, but when it comes to selling the products they can rely on the power of Shopify.
We worked with Tropic on their marketing strategy implementing a social media plan, PPC assistance, and improving their SEO efforts. We have seen phenomenal growth for both the marketing and the SEO with an increase in traffic of up to 178% in just the first 9 months alone.
Head over to our case study section and find out more about our work with Tropic.
Launched in 2017, Fenty Beauty was founded by pop icon Rhianna as part of a campaign to make affordable beauty inclusive of all skin colours and tones. Since opening over five years ago, Fenty has grown to not only have a range of makeup products but to also have a full skin care line.
Using the power of Shopify, Fenty Beauty has created two different designs using one site. The website includes a header which allows the user to switch between "Fenty Beauty" and "Fenty Skin" this is the perfect way to show different product ranges, which may have different audiences whilst keeping it all in one convenient place.
Having more warm, neutral tones for the makeup line gives props to the original products sold by Fenty and embodies the brand. However once you've navigated to the skincare range you are greeted with cooler, fresher tones which mimic that of what we expect from facial washes, toners, and moisturisers.
Created as a phone case brand in 2011, Skinnydip London has always pushed the limits with its designs and since the inception over 10 years ago it has grown to become a superstore of fashion, beauty, accessories & self-care products. Skinnydip's evolution has been amazing and as a brand have trusted Shopify to grow alongside them.
One of the biggest myths that we like to debunk is that Shopify cannot handle a larger product range. Shopify is the biggest ecommerce platform and offers thousands of merchants a platform to sell their products - no matter their size. Shopify not only caters for smaller startup companies but larger ones too. And Skinnydip offers a superb example of how you can create a large Shopify store which offers a unique online shopping experience having so many different products all under one roof!
Created over 20 years ago, Pixi Beauty is an extremely successful beauty brand which creates both makeup and skincare products. As an advocate for natural beauty, Pixi has a worldwide following of loyal customers who support the brand for its focus on enhancing your features, rather than covering them up.
But loyal customers don't always stick around just because they love your brand, which is exactly why they have a loyalty programme in place. Pixi is using one of our favourite integrations, LoyaltyLion. Working on a points basis, customers can earn more points the more they buy - a clever way to encourage retention. LoyaltyLion has a robust integration with Shopify making it the perfect platform for implementing effective loyalty programmes.
Created in a garage in Barry, South Wales, Spectrum has gone from startup to sensation over the past eight years. Spectrum is a luxury beauty brand with a key focus on makeup brushes and tools with cruelty free, bold designed product ranges which are affordable for everyone.
As a well-respected beauty tool brand, they required a website that would allow them to showcase their products and brands. We were lucky enough to work with Spectrum on providing website support, helping to make changes and improvements to their overall website design and development as required.
You can find out more about the priority support service that we provided to Spectrum on our case study section.
Established in 2000, REN skincare was created with sensitive skin at its core. REN was created by a mum-to-be who found that "natural" skincare didn't always mean suitable for all skin types and so there was a gap in the market for skincare products which were gentle and effective. REN skincare is cruelty-free, inclusive, and uses bioactive ingredients.
We had the pleasure of working with the team at REN to build them a bespoke Shopify store to create a seamless shopping experience and nurture returning customers. The website was built with this in mind ensuring that all customer journeys were enjoyable from start to finish.
You can find out more about our work with REN Skincare over on our website.
Hismile began as a teeth whitening product in 2014 which wanted to offer professional results without the pain and sensitivity associated with regular whitening methods. Over the years Hismile has evolved and created a whole range of products dedicated to oral hygiene, and through the power of influencer marketing their flavoured toothpastes have reached the bathroom sinks of the likes of Kim Kardashian.
As a viral brand it is essential that the Hismile website can handle a large influx of customers at one time. Shopify has an exceptionally resilient infrastructure which is designed to handle high-traffic situations, whether that means a Black Friday sale, or the sudden surge from a viral TikTok video.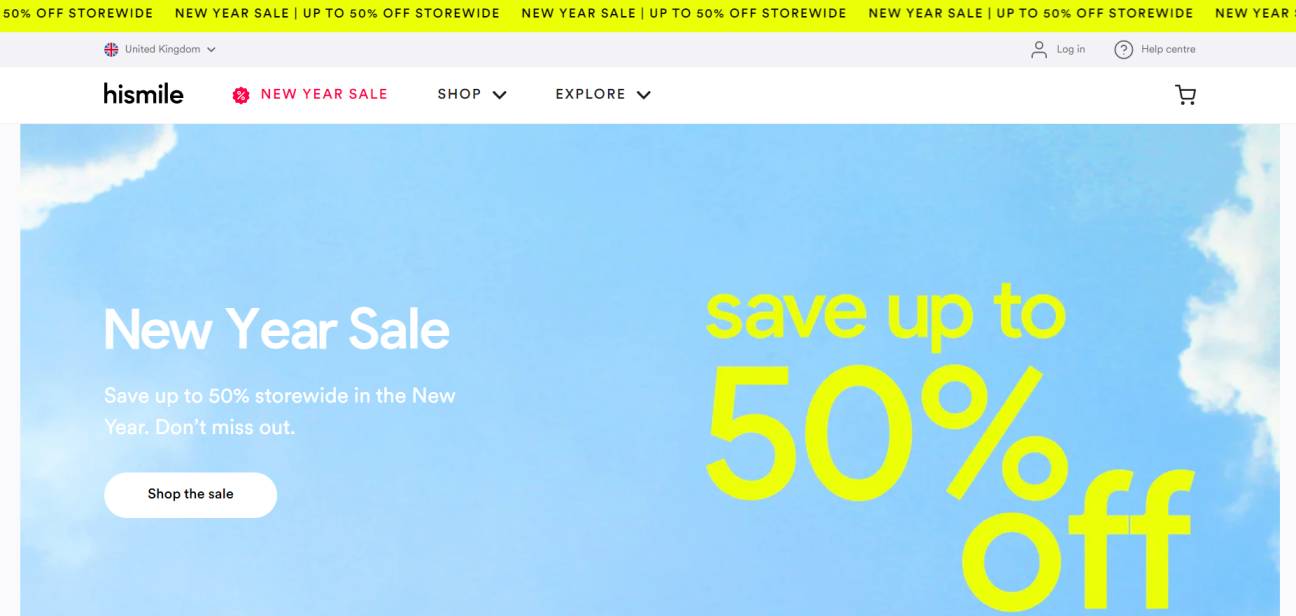 A fast-growing brand which offers high quality facial grooming products, Supply was founded in 2015. They offer a wide range of beard and moustache products which are specially formulated and tailored to suit your needs via an interactive online questionnaire.
In addition to the above, Supply offers their customers a subscription service, which due to the repeat nature of the purchases goes a long way to promoting life-time value and further encourages repeated buys.
Another facial grooming brand, Beard and Blade was founded in 2007 in Australia. Since the inception Beard and Blade has rapidly evolved into the largest store of its kind in Australia and even began reaching out into international markets.
Explore our Guide to Internationalisation on Shopify
Priding themselves on excellent customer service, their Shopify store has allowed them to service thousands of customers and offer over 100 brands under one single online marketplace.
Sticking with the theme of facial grooming products…we've got another one: Beardbrand. With over ten years in the industry, Beardbrand boasts a multiple product offering from moustache wax to beard brushes, cologne, shampoo and more.
To encourage sales, Beardbrand has taken its large product offering on Shopify and used this to provide percentage discounts on bundled buys. Offing a "bundle and save" option gives monetary incentives to customers looking to stock up on all the essentials to get that perfectly styled beard. Beardbrand offers up to 15% off larger bundles of six or more products.
Famously owned by celebrity influencer Kim Kardashian, SKKN was developed to bridge the gap between simplicity and high quality skincare. The brand used years of scientific research to bring spa-quality skincare to people's homes, with a unique focus on natural simple ingredients so as not to cause issues to those with sensitivity or skin conditions.
This feeling of natural beauty and simplicity is evident from the first click on the website. Letting the products take centre stage, the website follows a toned down colour palette, font and even layout. Everything on this Shopify website draws your attention to the sleek lines and curves of the product range.
When talking about the top health and beauty stores we definitely couldn't forget Absolute Collagen. Absolute Collagen is an award winning company which sells collagen products including supplements, serums and a hair care line. Founded by Maxine & Darcey Laceby the brand has grown over the past few years and the website is a reflection of their journey to success.
Here at Eastside Co we worked with Absolute Collagen on their new Shopify 2.0 website build and Recharge integration. As part of the project we used the power of Shopify to elevate the brand and push the subscription service using trusted partners Recharge. Shopify as a platform works perfectly with the Recharge integration making subscriptions both easy to manage from a merchant perspective, and a sleek fluid process for the customer too.
You can read more about the work we completed with Absolute Collagen on our case study page.
The perfect example of how social media and business can collide, Makeup Geek was founded in 2008 as a YouTube channel to review products and educate makeup enthusiasts on products, ingredients and application. Fast forward to 2011, and Makeup Geek grew into a makeup brand in its own right and now has a vast offering of high-quality, cruelty-free, ethically-made eyeshadows, blushes, bronzers and more.
Using the Shopify platform, Makeup Geek has created a website which embodies their brand and presents in-depth image-led tutorials that have revenue at their heart. Step-by-step makeup guides have featured products attached which you can purchase directly from the tutorials.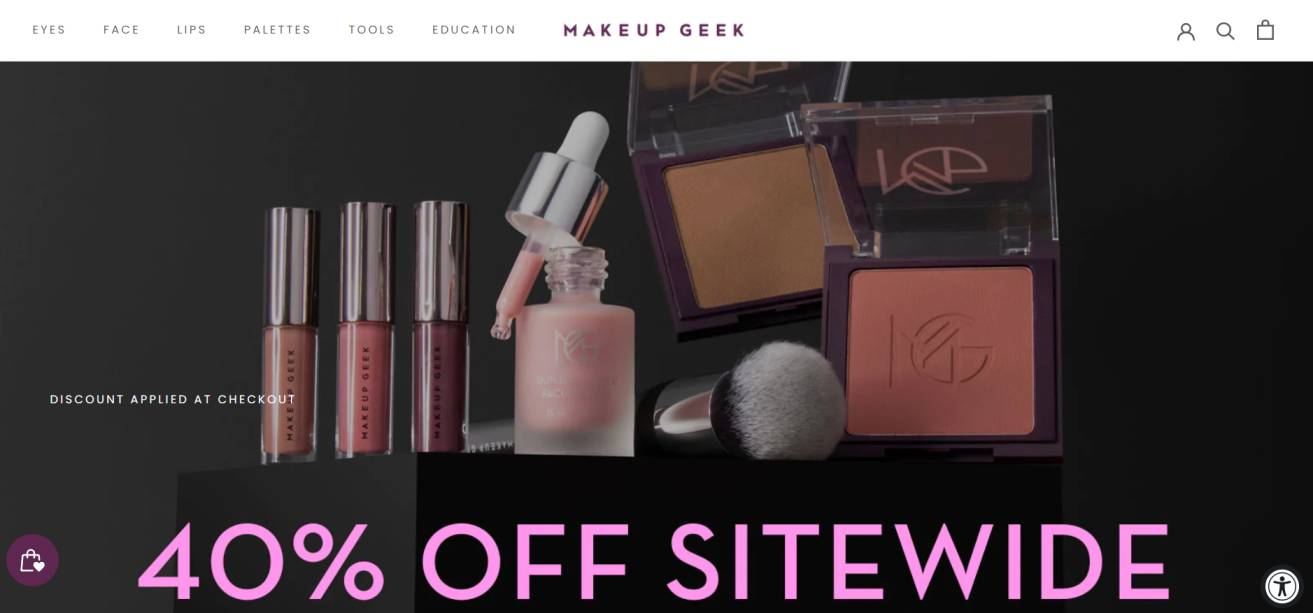 Founded in 2017, Glow Recipe is a cruelty-free brand which focuses on using fruit based ingredients to feed your skin the nutrients it needs to battle everyday life. It is built on the philosophy of taking skincare day-by-day and skin-by-skin, as we all know no two people, or skin types are the same.
Glow recipe relies heavily on social media and influencer marketing, famously bringing out a skincare edit in 2022 with beauty influencer Mikayla Nogueira. Therefore having a social media integration on their Shopify site is essential. Towards the bottom of the homepage this site features an Instagram integration which not only showcases their products but also allows you to shop the products featured in the UGC snaps!
True Botanicals started as a brand looking to revolutionise the skincare industry, and address the need for toxin-free, natural skincare products which are clinically proven to outperform leading skincare brands.
True Botanicals offers a subscription service on its Shopify store which presents a monetary incentive to become a member of the client base. Each product can be purchased as part of a monthly subscription, and signing up for the subscription will allow customers to receive 15% off the price of their purchase as well as receiving a free gift. This is an easy way to encourage customer retention as well as acquisition - something which is very important in today's economic landscape.
Sunday Rain is a vegan beauty brand specialising in bath and body care products which use natural scents and simple packaging to create an indulgent product. Sunday Rain is quickly becoming a household name with well known stockists including the likes of Matalan, Asos and more.
Unlike a traditional ecommerce store, the Sunday Rain Shopify website is non-transactional. However that doesn't mean that they have slept on their product pages. Each one is expertly laid out with key information and ingredient lists as well as functionality which allows prospective shoppers to see where they can purchase each product. An excellent example of how your website can act as an online storefront for those interested in trying out your products.
Founded in Canada in 2011, Ilia Beauty is a clean beauty brand which uses Shopify to create a natural looking online storefront which is reflective of their brand and its ethics.
Using a product focused design, Ilia Beauty encourages consumers to see past elaborate packaging and focus on clean products which are designed to enhance your natural features. With the help of Shopify the site uses featured awards, recognitions and reviews to promote trustworthiness and encourage customers' progress through the sales journey, to ultimately end in a purchase.
Founded in 2014, White Rabbit Skincare takes inspiration from the gardens of old to create a skincare line which is kind to sensitive skin and suited to people living with skin conditions such as psoriasis. Focusing on natural ingredients as well as being micro-plastic free and having a low carbon footprint they required a website which would showcase their product offering.
The simplicity of the Shopify site allows the brand's products to take centre stage. With the homepage dedicated to showcasing the products along with their multiple five star, high quality reviews, this is definitely one to watch.
---
Are you looking to transform your beauty brand using the power of Shopify? Get in touch with a member of our business team to discuss how we can help, whether you need a glow up or full makeover.