Since its foundation in 2004, Shopify has established itself as the world's ecommerce platform of choice. It provides start-ups and enterprise businesses alike with a solution to simplify the process of running an online store of any size.
In this article we're looking at some examples of successful Shopify stores and we've picked some of the brands with the most popular Shopify stores in 2023. From household names and breakout brands to some of the world's hottest musicians, you might be surprised to find who's on our list of top Shopify stores.
Thinking Of Moving To Shopify?
Gymshark's story was the big success of 2020 and the brand is one of the biggest Shopify stores. Started by student Ben Francis, the gym apparel company has gone from Ben personally sending out orders in jiffy bags from his garage, to being valued at $1.4 billion in 10 years. Fewer than 25 UK companies have ever achieved this – and only eight since 2001.
The brand replatformed onto Shopify Plus from Magento after a disastrous Black Friday, and has not looked back since. The business continues to grow month on month with a recently-opened flagship store on London's Regent Street, and shows no signs of slowing down through 2023 and beyond. As well as being a cool Shopify store, it's a great example of a superb site on the platform.
Launched in 2015, Huel (Human Fuel) is one of the UK's biggest success stories as we move into 2023. It provides nutritionally complete food - starting in powder form originally, the brand has expanded its portfolio to cover hot food, snack bars, pre-mixed drinks and even clothing, and continues to grow from strength to strength.
It uses the Shopify platform to deliver its nutrient-rich products to customers in a growing number of territories, showing the scalability of the platform and how it can cope with a huge number of orders without any issues. It's one of the most popular Shopify stores and has a lovely minimalist aesthetic. A great Shopify store.
Absolute Collagen was founded in 2017 by entrepreneur Maxine Laceby, and its award-winning liquid collagen supplements have seen huge success in the UK and beyond.
In 2022 the brand was placed fourth on the Sunday Times Hundred list which features Britain's fastest-growing private companies. It has also won numerous awards including GQ's 'Top 7 Best New Grooming Products in the World' and 'Best New Beauty Supplement' at the CEW Awards.
In 2022 we started working with Absolute Collagen and have helped boost their results further, with a brand-new Shopify store, new subscription portal with Recharge, and integrated SEO strategy which increased traffic by 9% and transactions by 47%. You can check out our case study here.
Condor Cycles is London's premium cycle retailer with a heritage dating back to 1948. We partnered with the brand to reimagine its ecommerce presence on Shopify 2.0, for a premium image, enhanced functionality, leaner and faster store, and more sales.
Read more about how we worked with Condor in our project overview.
The idea behind allbirds was to create an entirely new category of shoes inspired by natural materials, with an ongoing mantra to create better things in a better way.
This Shopify store does a superb job of telling the brand's story, showcasing the products, expressing the values of sustainability that are so important to the brand, and keeps things simple with a Men/Women/Kids/Gifts top nav.
Beardbrand was launched in 2012 after Founder Eric Bandholz attended a beard competition. He began the company as a way to unite men with beards and build a community. Starting with a blog, YouTube channel and Tumblr blog, the company grew and then launched its store on the Shopify platform. It continues to be a superb example of a successful Shopify store and goes from strength to strength, becoming the go-to brand for grooming products for men.
Decathlon is 'on a mission to make sports and the outdoors more accessible to everyone, everywhere', and they've chosen Shopify as the place to do that from. They've managed to take an overwhelming amount of sports items, covering everything from archery to yoga, and made it easy to find what you're looking for, whether it's clothing, accessories, vehicles, shoes or equipment.
The ever-popular drinks brand launched on the Shopify platform with collections under Red Bull Racing, Red Bull Records, Red Bull Spect Eyewear, and more. From accessories to apparel, this is the place to get your Red Bull merch in 2023 and is a lovely Shopify store example.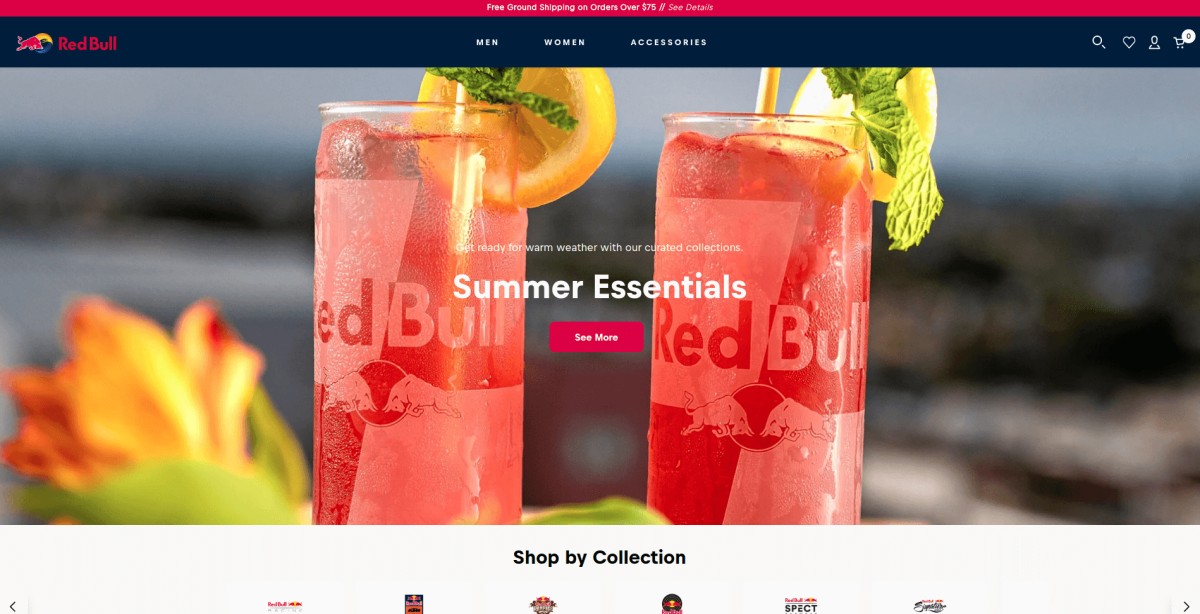 You've probably seen the ads by now. This brand went stratospheric in 2022 after we designed and launched their subscription-based Shopify store. The sustainable deodorant brand has struck a chord with a huge audience thanks to its refillable aluminium containers, ever-changing range of scents, easy-to-use subscription model, great sense of humour and environmentally friendly philosophy.
Check out how we worked with Wild to get them transactional online and watch our interview with Co-Founder, Charlie Bowes-Lyon.
Rocket Dog produces laid back, funky women's footwear, from pumps and heels to sneakers and wedges, for fashion conscious females. From a start up in the late 90s to a globally recognised footwear brand, the company needed a secure, robust and scalable platform to facilitate this huge growth - the result? An example of a successful Shopify store that's taken the world by storm.

London's eclectic streetwear brand uses bold colours and a 90s fashion aesthetic in its clothing and onsite imagery. Its ever-evolving collections, collaborations and spirit of non-conformity demanded a platform like Shopify to keep up with its ideas and offerings. We migrated the brand from Magento when they needed a more robust platform and created one of Shopify's top stores in the process, if we do say so ourselves.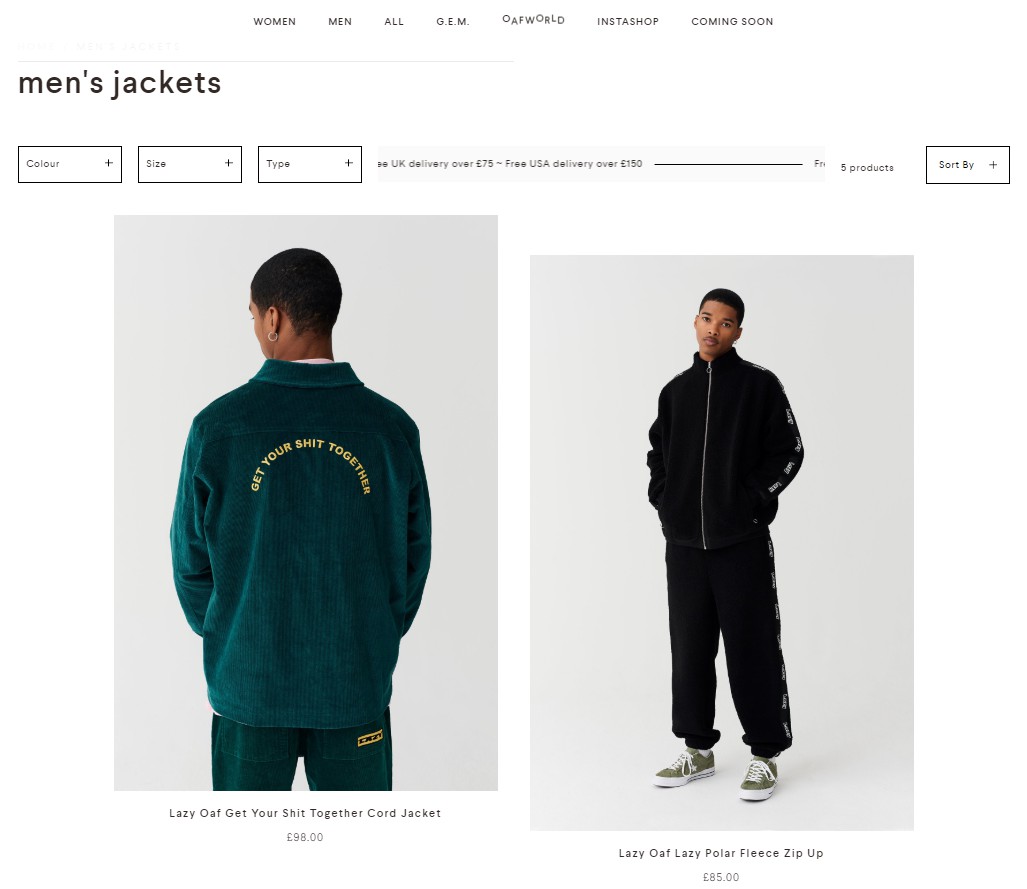 Launched by Susie Ma after her appearance on 'The Apprentice', Tropic Skincare has gone from strength to strength and is one of the UK's fastest-growing skincare brands. It's a great example of a Shopify store that entices users to explore, draws people in to the products and makes it really easy to buy or become an ambassador to sell products on behalf of the brand.
We worked with Tropic on their marketing strategy, delivering amazing revenue results and also helped co-ordinate a live shopping experience which saw over 15,000 people tune in with over 1,100 products sold.
Need A Shopify Store? Contact Us
This site beautifully shows the detail and care that goes into the handmade and personalised, 100% leather satchels. With worldwide delivery built into the online store, it's a pleasure to buy from them, wherever you are on the planet. This is a great example of a successful Shopify store that has gone global.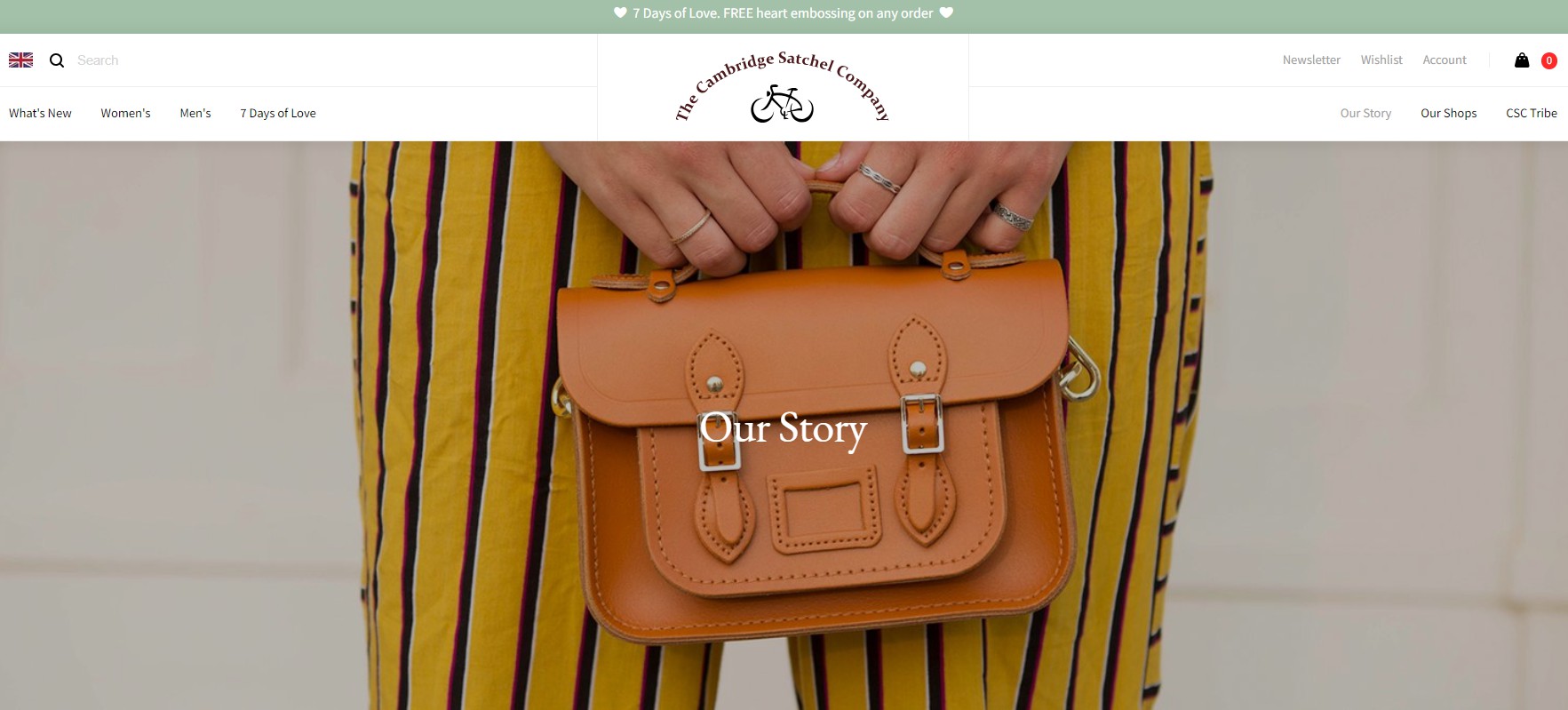 Kim Kardashian's'Shopify store gets straight to the point, with striking header images before moving straight into products, with clear, bold imagery and capitalised titles. The brand has also tapped into the conscious-consumer's focus on cruelty-free, vegan and 'clean formulas'. It's one of Shopify's top sellers and a great example of a store that does commerce well without making it over-complicated.
The global fashion brand uses a nifty 'quick view' function to quickly see the products in more detail without leaving the page, and has beautiful imagery to really showcase their wares. It's one of the most popular Shopify stores, in no small part to the superb visuals.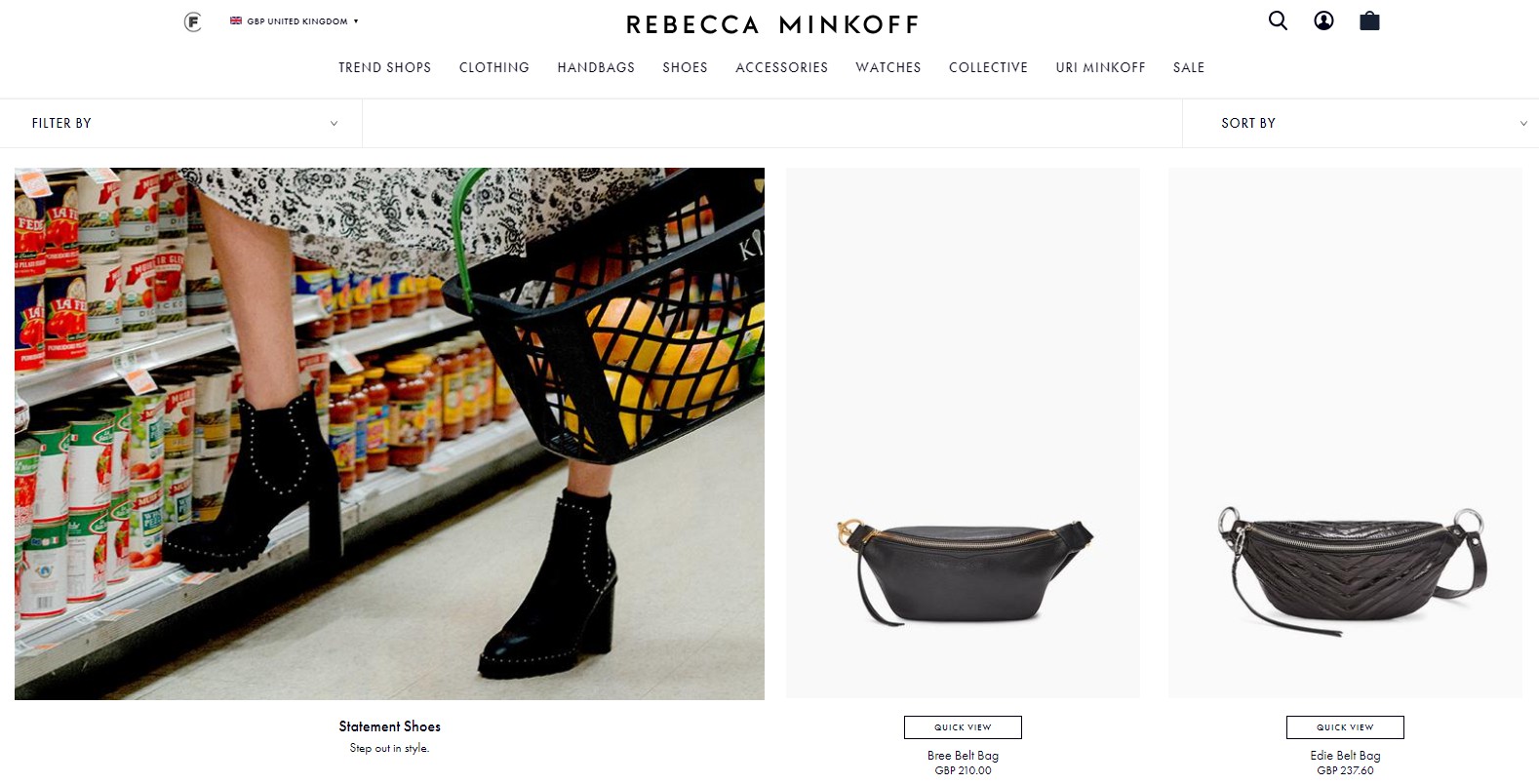 This online-only bikini brand is effortlessly cool, minimalist, and both retro and contemporary at the same time. Using a mixture of great product shots and beautiful lifestyle photography, it sells the concept, aspiration and product equally effortlessly.
Heinz launched their new DTC site in one week on Shopify Plus when the pandemic hit, and they needed a new way to get their food to people who were unable to shop in physical stores due to lockdown. Similar to the Carex example earlier in our list of top Shopify stores, it shows how versatile and functional the platform is.
Naja is an eco-conscious underwear brand that is all about empowering women through a desire to make the world a better place. Its Shopify store has a straightforward nav, great product shots and the ethos of the brand runs throughout.
This British-made watch site oozes luxury. From high-class product shots to imagery showing the products being handmade, the site experience is one that looks high-end at every step of the journey. Talking of the journey, the About page really sells the story of the brand, how it came to be and what it represents.
Victoria Beckham founded her eponymous fashion label in 2008. It has since become the voice of modern minimalism, celebrated for its versatility, strong sense of sophistication, and effortless approach to wardrobing women for every part of their lives. Certainly one of the biggest names on the platform, this is also an example of a great Shopify store.
A contempory furniture store based in East London, Haus chose Shopify as the platform to use for trading online. With an easy-to-use nav on the left of the site, the prodcuts sell themselves through photography that shows them in situ to really bring them to life in the mind of the customer.
Dr Squatch has performed stupendously well in 2022, with its sense of humour coming through in its brilliantly funny adverts. A 'mystery offer' pop-up encourages users to part with their email address on arrival, and the site does a great job of displaying products in a rich, vibrant way, while communicating the brand's ethos. A subscription option makes pricing attractive for the customer while helping lock in recurring revenue for the company.
Split into sections for corporate, parents and collectors, this site does a great job of catering for different audiences with its dizzying array of toys, gifts and playsets. You can then choose to shop by the age of the child and by your budget to help you cut through the noise quickly.
'A lifestyle movement inspired by London's culture and emerging music scenes.' Nicce has one of the most popular Shopify stores - it challenges the exclusivity of street style, bringing contemporary, clean-cut and minimal designs to a global community via the global platform that is Shopify.
Megastar Adele's merch shop is one of the most popular Shopify stores - it's on Shopify Plus to deal with the influx of traffic and sales that no doubt follow an album launch or tour. The site even allows customers to order merch and then collect it at a gig. It's a great example of a successful Shopify store that is functional, easy to use and simple to navigate.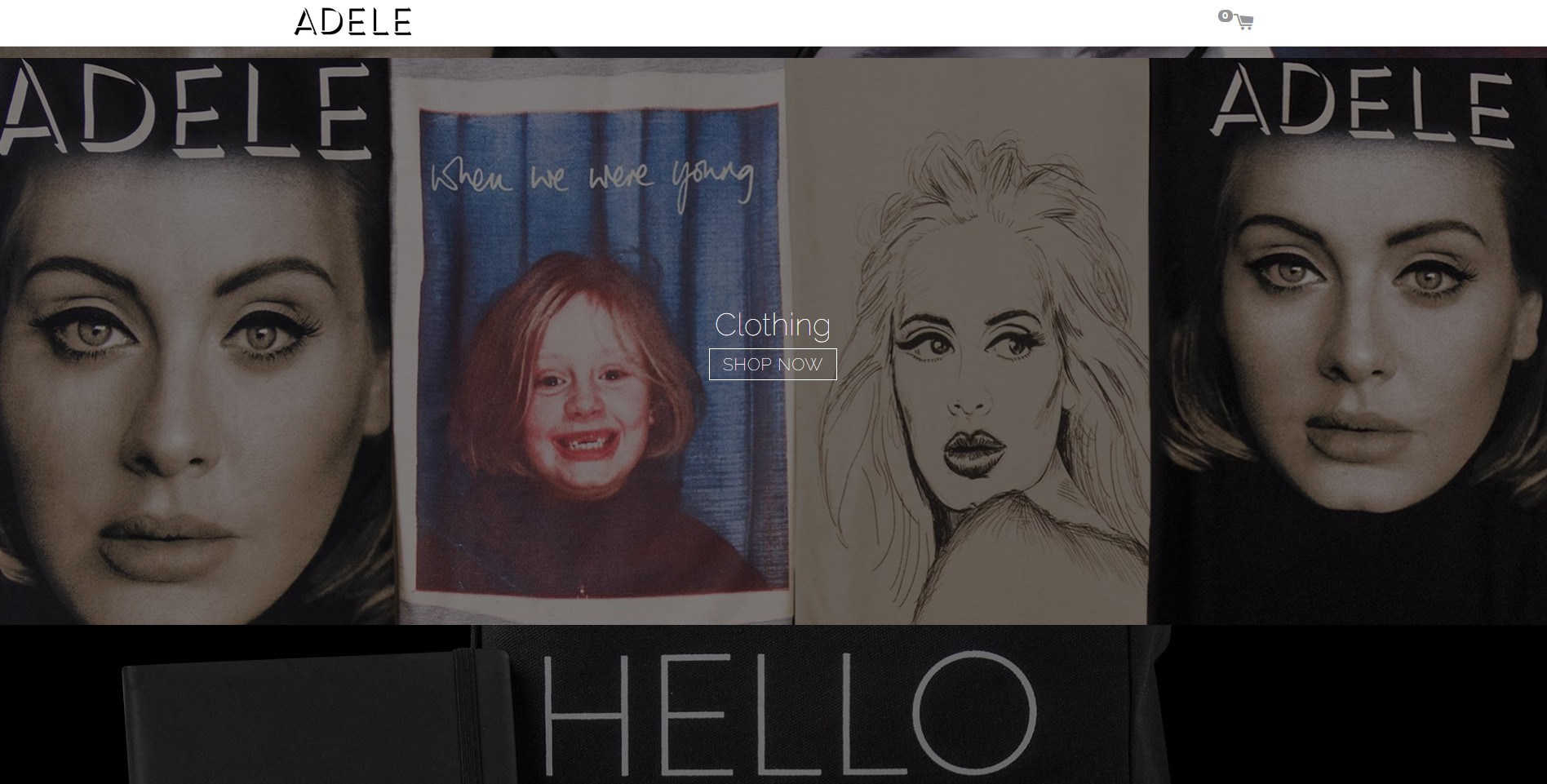 Enquire About Moving To Shopify