The jewellery and accessories market on Shopify is a competitive one, with thousands of vendors, manufacturers and dropshippers all vying for the attention of an increasingly discerning online audience.
However, there's always room for another competitor to enter the fray if they have something unique or a niche product to offer, and are able to resonate with their intended audience through great products, branding and marketing.
Here we take a look at a selection of jewellery and accessory brands trading on the Shopify or Shopify Plus platforms - some you may have heard of; some are smaller challenger brands. They're all making good use of the platform and some of its third party integrations in order to grow their brands.
So let's take a look at some of the best jewellery and accessory stores on Shopify!
---
Founded by Korean-born Connie Nam, Astrid and Miyu is London-based and is known for its contemporary collection and signature ear-stacks, where several earrings are worn together.
At the time of writing, Astrid and Miyu's Shopify Plus store's homepage hero banner is split down the middle: on the left is a shot of a woman wearing several of the brand's earrings, and on the right, a short repeating video showing a close up of her ear and the products. It's a great way to introduce the brand and bring its products to life.
It also has an 'add to bag' widget overlaid on the video, letting you purchase the featured earrings right there and then if you like what you see.
The site has a member points system, courtesy of LoyaltyLion, so when you add products to the bag you're shown how many points you'll earn with that purchase. A wishlist functionality makes it easy to keep track of future purchases and to help spread the cost, Klarna is an option at checkout too.
---
Upon arriving on its site, Daisy immediately hits you with a 10% off offer including free delivery. (This is of course in exchange for your email address and birthday, so they can market promotions to you in the run up to the big day.)
A Gorgias integration makes live chat intuitive and straightforward, while the site design and branding is simple and elegant, effortlessly presenting its products for ease of purchase.
The Shopify search functionality is enhanced with Searchanise which gives predictions as you type, helping you find your desired products more quickly.
Other helpful areas in the site footer include a size guide, jewellery care article, a referral scheme, delivery and returns information and an FAQ page. These all provide reassurance and are essential elements that add credibility, build trust and increase the likelihood of a visitor turning into a customer. An area for customer reviews, implemented by Yotpo, helps complete this.
---
Loel is a small family-run business. They source their pieces from Italy, including bracelets, earrings, necklaces and rings, and sell them on Shopify. This site has been built on a Shopify theme by Maestrooo.
---
We launched this unique jewellery brand's Shopify Plus store and we still think it's one of the most vibrant, fun and engaging jewellery stores out there. From themed drops like Eurovision and David Bowie collections, to collabs with everyone from the world of 'Peanuts' to niche artists, the site is an ever-evolving splash of colour and fun, showcasing their statement jewellery borne of a laser cutter.
Check out our case study for more on the brand and the Shopify site build.
---
Orelia also utilises the common tactic of the 10% discount off first order pop-up, with fields to submit your email address and date of birth. A Klaviyo integration means that this Shopify brand will be using automated email flows to target customers with various comms like newsletters, birthday discounts and exclusive previews.
This jewellery store is very image-focused and uses image grids provided by Covet Pics to show off its many and varied collections.
Other ways it encourages purchases include an integrated Instagram feed with 'shop the look' CTAs and a wishlist functionality to allow browsers to save for later. The now ubiquitous Klarna integration means that shoppers can opt to spread the cost over several months, again making that purchase decision a little bit easier.
Behind the scenes, a Lucky Orange integration allows the ecommerce manager at Orelia to use tools like heatmaps and visitor session recordings to understand and analyse customer behaviour in order to improve the site for enhanced conversion rates and customer experience in the future.
---
We've worked with Laura, Founder and lead creative at V by Laura Vann, and have seen the brand scale on Shopify over the past 6 years. This jewellery brand specialises in art deco designed pieces at affordable prices, and also designs and creates bespoke jewellery and wedding rings. As well as the ecommerce store, V products are also available in Harvey Nichols, John Lewis and Fortnum and Mason.
---
This jewellery store is on the Shopify Plus platform. The top banner has a countdown, showing how much time you have left to order if you want to take advantage of free shipping (although some would argue including free shipping as standard could be a better way forward for conversion rates, with the countdown banner used to instil a sense of urgency using another metric).
The website design itself is minimalist, classy and clean, keeping things simple. Often people just want to see the goods and be able to buy what they want quickly and easily.
A nice touch when adding to cart is the messaging around upsell. For example the site tells you that by including a necklace chain with the charm you're about to buy, you're actually saving 20% on the bundle.
A Langify integration lets the site load in different languages depending on the region the shopper is visiting from. Talking of personalisation, Dynamic Yield is integrated which allows businesses to deliver digital experiences that are personalised, optimised and synchronised so content, products and offers are dynamically matched to individual customers based on behaviour to increase revenue and loyalty.
The brand is also making use of the TikTok pixel, helping them to capture and analyse performance data on the platform.
---
This site stands out from many others with its pink and green neon colour scheme, something that sits outside the usual aesthetic of the majority of jewellery stores on Shopify. Does it work? They're savvy enough to highlight that they've had mentions in Elle, The Telegraph, Hello!, Cosmopolitan, Marie Claire, Stylist and Grazia, so it seems so!
A student discount scheme helps lock in that demographic and a loyalty scheme via a LoyaltyLion integration helps encourage loyalty and further sales.
Omnisend is the email and SMS marketing platform of choice for this brand.
---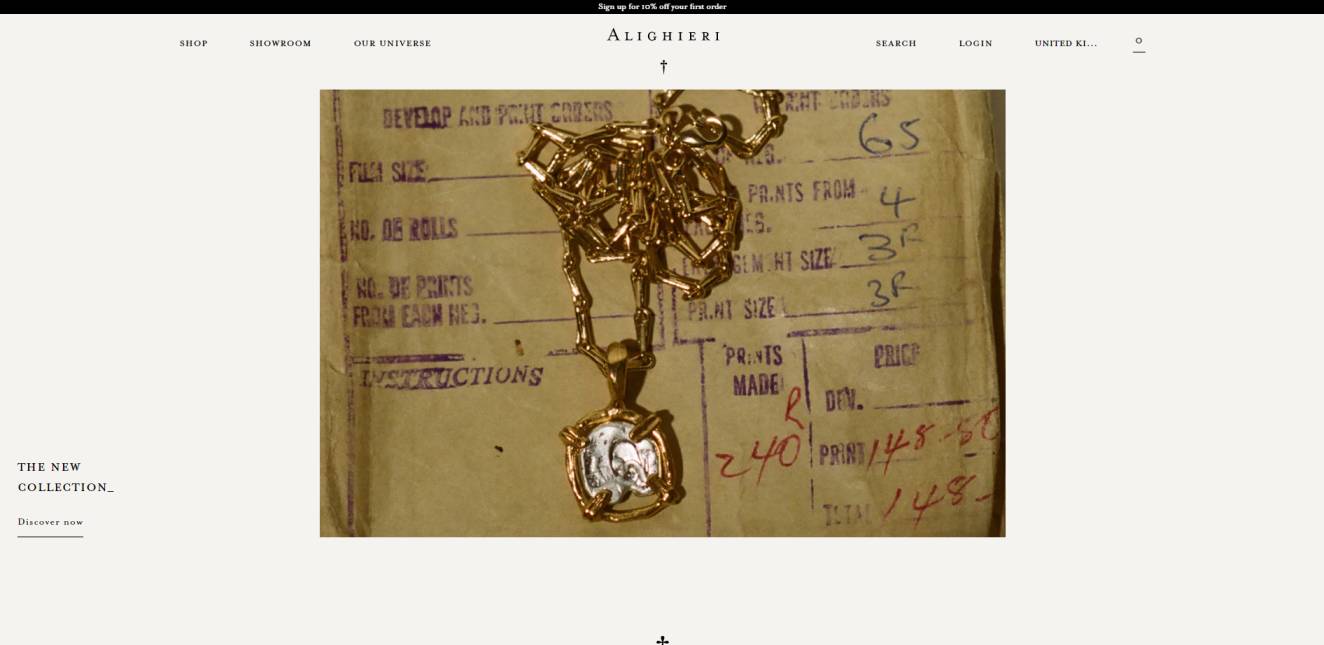 Dreamt up by founder Rosh Mahtani when she was going through a dark time. Alighieri was inspired by Italian poet, Dante Alighieri, and his story of being lost in a dark wood, searching for strength and courage. This brand sells modern Heirlooms hand-carved and cast locally in the UK
This brand takes a very personal approach, detailing the founder's story, leaning on the fact that the products are locally hand-crafted, and including a hand-written note with every order.
A '10% off your first order' offer and free delivery and returns helps encourage a purchase.
---
This high-end jewellery, sculpture and accessory brand, steeped in African luxury and the region's wildlife. It is a family business - a fact which is highly promoted throughout the site, giving a sense of the history of the brand, going back to its foundation in 1978.
The intricate sculptures and jewellery are shown beautifully through an image-driven site, which includes wishlist functionality, payment options and personal shopping.
Learn more about the brand and how we created the Shopify site for Patrick Mavros in our case study.
---
Daphine was founded in London in 2018 by Damasia Ball and Philippine de Follin. Firm friends, they had bonded over a shared perfectionism, a love of simple, uncomplicated design, and the fact that they are both from families of strong women. Endlessly inspired by the way their mothers, grandmothers and sisters adapt effortlessly to many roles, they decided to make jewellery that would do the same thing.
This overview of the brand is interesting - a strong sense of purpose and history can help elevate one business over another, and in a crowded space, every element is key.
The site itself is simple and clean, with products shown on a pale background in a grid format, and upon hover the image changes, showing the product in context, being worn.
A Klaviyo integration means the brand has the facility to engage with subscribers at all stages of the customer journey to add value, encourage sales and communicate offers, discounts or new product drops.
---
Missoma's product shots are larger than many of the other sites we've looked at here, which gives the opportunity to highlight additional details in the pieces. The images change to 'in context' shots upon hover which works nicely, and clicking takes you straight to the point of purchase so you can be at your bag in seconds if you know what you want!
The site uses many of the tactics we've referred to including Klarna to split payments, a LoyaltyLion programme to earn points for future discounts, and 10% off your first order for subscribing to the newsletter. It also includes wishlist functionality and a back in stock app which will notify customers when their chosen item becomes available again. All small things that cumulatively help to nudge up conversion rates and repeat visits.
---
An uncluttered, grid-based site greets the visitor to Qalo's Shopify store, highlighting free shipping, social proof via media mentions and customer reviews. This is a fun-looking, affordable accessory and jewellery store with ranges including collaborations with Disney and Star Wars.
The brand is clearly big on sustainability and has pioneered a free recycling programme for its silicone-based products.
---
There's no preamble with Shashi - the homepage is straight into huge product images on a grid without any written content whatsoever. It would be interesting to see how it performs from an SEO perspective with that approach.
While there are some key links in the footer like returns, shipping, order tracking etc, there isn't anything really that gives any kind of insight into the brand. It's quite mysterious - perhaps an approach that works for them; just letting the products speak for themselves.
---
In contrast to Shashi, Rebel Nell makes it immediately clear what it's all about - a woman-owned, social enterprise that provides employment, equitable opportunities and support to women with barriers. Their jewellery incorporates repurposed material like fallen graffiti making its pieces as unique as its customers.
Its categories are listed by both jewellery type as well as 'occasion' such as Mother's day, birthday and girls' night out.
It goes beyond many other jewellery brands with a whopping 15% off if you sign up for email and text alerts and has a reward scheme in place to reward loyal customers.
---
Vivien Frank is an independent designer collection using gold, silver, diamonds, leather wood and silk, among other materials.
This example of a jewellery store on Shopify is quite a typical one: strong imagery with products shown on a white background as well as being worn, a clean, minimalist site design and an extremely easy purchase process.
---
Lovisa was created out of a need for on-trend fashion jewellery at ready-to-wear prices. While the site itself has a slightly old-school look about it, the brand has embraced some more recent tactics when it comes to encouraging sales. With Clearpay and Klarna as BNPL ('buy now pay later') options, easy returns and exchange policies, wish lists, exclusive SMS deals and free shipping, they're signposting a load of ways to make it easy to buy from them. It also has the best 'discount on first purchase' offer we've seen in all of these Shopify jewellery and accessory stores, with a very attractive 20% off.
A Klaviyo integration makes it easy for them to communicate effectively with their customers too.
---
So that's it. If you're looking to launch your jewellery or accessory brand on Shopify, hopefully you've taken some inspiration from these sites, and the insights from our overviews. There are common features across many of them that all brands should be implementing these days, but it's important to stand out from the crowd and offer something truly unique in order to grow your brand.
If you need any support with designing, launching, migrating or marketing your Shopify jewellery brand, get in touch with the team - we'd love to help you take your ecommerce business to new heights.
---
To stay up to date with all things ecommerce, make sure you subscribe using the form below to receive our weekly newsletters, guides and advice.