Site Launch and SEO
The pandemic and closure of retail stores around the world brought with it an urgent need for brands to make sure their online retail capability was able to maximise revenue opportunities. Carex was in the unique position of not having a D2C website, as well as stocking a highly in-demand product: hand hygiene products.
We created and launched their Shopify store from scratch in just over 4 weeks, allowing them to enter a market with no prior presence, reaching customers who were unable to shop in physical stores.
We supported the launch with SEO activity to ensure the new domain gained visibility and traffic and the results were exemplary. Check out our Carex case study for more.
---
UX Strategy, Shopify Design and Build, SEO, Platform Migration, Multiple Stores, Backend Integrations
Bringing together the best of skate culture and street fashion, Route One has been kitting out skaters for over three decades and we were delighted to work with them on a large, multi-strategy project. Starting with a discovery audit, we immersed ourselves in their business. Our findings and recommendations across 3 key pillars (technology, marketing, and experience) allowed us to really understand their strengths and opportunities, and informed the next steps of the project.
We crafted a UX strategy for the site before designing and developing a brand new Shopify store for Route One. There were many complexities to take into consideration: a complicated migration from another platform meant our SEO professionals had to ensure rankings and traffic weren't compromised in the move. Click and collect functionality and multiple stores were also an important part of this project.
Following a successful launch we've continued to work with Route One, providing ongoing SEO work to continually optimise the store and increase visibility, rankings and traffic.
---
Branding, Creative Content, Shopify Design and Development, Marketing including Email, Social, PPC and SEO
This is a new fitness brand that we've had the pleasure of being involved with from day one. This enabled us to define the audience and competition, brand guidelines, logo, brand identity, photography, and content strategy for the business. We then designed and launched the website for them. Following launch, we've supported the weighted vest brand with marketing, from paid social and PPC ads, to email marketing and SEO. Revenue is improving month on month - this is a superb example of a brand we've taken from concept to conversion to make it a success! Case study coming soon.
---
In-Depth Audit and Email Strategy, Email Marketing
San Francisco Wine School is a unique client for Eastside Co, as they are not a typical ecommerce brand. The majority of their sales focus is around learning experiences: they are a wine school that runs in-person and online certification programs, and workshops for everyone from wine enthusiasts to professionals.
ESC manages email marketing for San Francisco Wine School on a retainer basis. First we undertook an in-depth audit and strategy document, then we executed this and replatformed from Mailchimp to Klaviyo. Replatforming included integrating the new account with Mailchimp to migrate all subscriber information. We've seen huge success off the back of our email marketing work with them - with a 68% revenue increase via email since we started.
---
Bespoke Shopify Plus Build, Magento to Plus Migration, Onsite SEO, Clone Stores
Founded in 2010, Grenade's range of sports nutrition products has exploded in popularity, and we were extremely excited to be part of their journey in 2020. They were ready to expand further and wanted to improve their ecommerce presence, so decided to migrate their ecommerce store from Magento to Shopify.
Eastside Co designed a bespoke Shopify site with on-site SEO, managing the migration to the new platform to ensure there was no loss of traffic or ranking. As part of the project, clone stores were created to expand the brand's global footprint.
Grenade featured in the Sunday Times 'Fast Track 100 List' for 2020, which showcases Britain's private companies with the fastest growing sales.
---
Redesign of Shopify Plus Site, Relaunch of 3 International Stores, Native Shopping App, Priority Support
Motel Rocks started life as a vintage clothing import business. Over time, this developed into a shop and then evolved into a unique online range, which became the brand as it is today.
Motel chose ESC as the Shopify Plus Partner to undertake a full redesign and build of their existing Shopify Plus site, plus the relaunch of stores in 3 other territories (US, EU and Australia).
In conjunction with the new sites, we also recommended our partner Venn Apps to create a native shopping app for Motel which has been hugely successful.
We continue to work with Motel as Priority Support customers to update and add to the website whenever they need.
Learn more about Motel in our case study.
---
Spectrum specialise in creating makeup, tools and accessories that have professional quality at an attainable price point. They're one of our Priority Support clients who we love working with on an ongoing basis - we'll let them describe the service in their own words!
"Being a Priority Support client is like having one of the team in-house, we work together on a monthly basis to make tweaks and enhancements to the site for the better and our Account Manager is super proactive in making suggestions to continually improve the tiniest details. We'd be lost without them!!"
Find out more about our work with Spectrum in our case study.
---
Shopify Redesign and Bespoke Functionality
Turn your pet into a Renaissance masterpiece with Crown and Paw, one of our favourite clients of 2020!
Their existing site was already on Shopify, and they came to us for a redesign and a new site launch that needed some bespoke functionality building in, to enable customers to upload their pet photos.
---
Carole Middleton started this business in 1987 when she was unable to find party supplies on the high street. Fast forward over 30 years and Party Pieces is the go-to site for any and all celebration accessories.
We've been helping them with their SEO and have seen some great results:
A 3,300,000 increase in organic impressions compared to the previous 6 months
152% increase in revenue year on year.
---
Paid Social Media Marketing, PPC Advertising, SEO Strategy
Tropic Skincare was started by The Apprentice's Susie Ma: a business that sells award-winning, cruelty-free, natural and innovative skincare and beauty products.
We were delighted to work with this brand through 2020 and help them boost revenue through our marketing support. Tropic featured in the Sunday Times 'Fast Track 100 List' for 2020, which showcases Britain's private companies with the fastest growing sales.
Deploying paid social media marketing, PPC advertising and SEO activity, we've seen absolutely incredible results. To read about some of them, check out the Tropic case study!
---
Bespoke Shopify Store and SEO Package, Priority Support (design and development hours)
Childs Farm is the number one toiletry brand for babies and children in the UK. They came to us when they were looking to upgrade their online store and needed a Shopify expert to migrate them from the WooCommerce platform onto Shopify.
We designed and launched their new bespoke Shopify store, supported with an SEO package to ensure their existing traffic and site ranking remained buoyant.
Following the successful launch, Childs Farm are now one of our retainer clients on our Priority Support service.
---
Magento to Shopify Migration, Custom Lookbook
RÆBURN is a collaborative, creative fashion studio where daily design meets responsible production, alongside monthly events, discussions and workshops.
They were ready to scale their ecommerce business and approached us to undertake the migration from Magento 2 to Shopify. As part of the new build, we created a large number of page templates and used custom fields to make the pages as customisable as possible. This allowed the site to be more dynamic when it came to different content.
We also built a custom Lookbook page, giving the client a digital solution for sustainability, moving away from printing lookbooks each season.
---
Bespoke Shopify Build, ReCharge Integration for Subscription Functionality, International Clone Store
Based in London, UK, Wild Deodorant is a direct-to-consumer provider of sustainable, natural deodorant. A subscription-based model was the ideal way to rocket their revenue, so we implemented ReCharge onto their Shopify site.
With over 6,000 pre-orders when the subscription service launched, they were off to a flying start. The customer base has been consistently growing thanks to an easy to use Customer Portal, and with revenue up, customer churn down, and over 80,000 armpits being deodorised every month less than a year after launch, a German store has now gone live, with more in the pipeline!
For more on the client and the results they saw with ESC and ReCharge, check out our Wild Deo case study.
---
Bespoke Shopify Site, SEO Package, Integrated Subscription Platform, Priority Support
Blue Fuel is part of Chelsea Digital Ventures, a business from Chelsea FC. It brings specially tailored nutrition products to athletes using access to the club's expertise in health, fitness and sports science.
Eastside Co created a bespoke Shopify site paired with an SEO package, and developed an integrated subscription platform with a customer login area.
Once the site launched, Blue Fuel have continued to work with us as one of our Priority Support clients.
---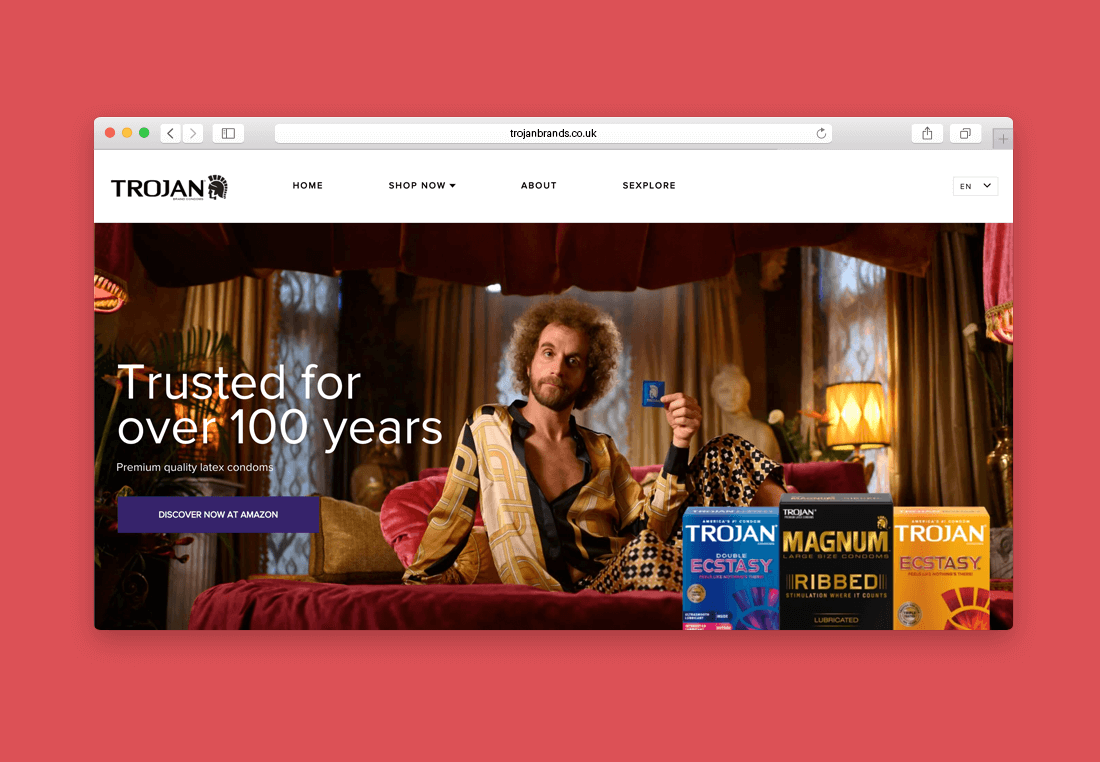 Trojan is a premium condom brand that has been trusted for over a century. With 70% of condoms sold in the US being Trojan products, they came to Eastside Co to help them achieve growth and further penetration into the UK market.
Check out our Trojan case study to see how we created a site for them to allow them to enter the UK market as quickly as possible.
---
Non-Transactional Theme Build
OxiClean is a Church and Dwight company specialising in detergents and stain removal products. This project was a non-transactional theme build (no ecommerce functionality; products are sold in selected stores only).
The goal was to create a new website to introduce OxiClean to the UK marketplace.
---
Bespoke Shopify Store, Migration from Drupal to Shopify, Onsite SEO
Founded in 1996, twentytwentyone supply design-led furniture, lighting and accessories. This project really gave us the opportunity to showcase their product range, once our SEO experts handled the technical migration from Drupal to Shopify. You might argue we launched the twentytwentyone store a year too early in 2020!
---
Marketing: CRO, UX and SEO Activity
From children's clothes to baby furniture and nursery accessories, Scandiborn brings together brands from around the world, supporting independent businesses in a responsible way by looking out for both the planet and the people who make the products.
The client wanted to grow the business but needed a Shopify Expert to help them reach their goals. Our marketing team, with a combination of CRO and UX improvements, and SEO work, were able to take them to the next level.
Check out the Scandi case study to see the numbers and learn how we achieved them!
---
PPC, Paid Social Media, SEO, Email Marketing
A female-led start-up founded in 2017, WUKA (Wake Up Kick Ass) launched the UK's first reusable and leak-proof period wear. They stand for equality, and social and environmental responsibility.
We've loved working with this client through 2020, supporting them and helping them grow with a range of marketing tactics including PPC, paid social media, SEO and email marketing.
---
Waterproof socks, gloves and hats make up the Sealskinz product range. We worked with them to design, develop and launch their brand new, bespoke Shopify store.
If you'd like to talk to us about how we can help your Shopify business this year, why not drop us a line?