Why Do Fashion Stores Choose Shopify?
Shopify offers a flexibility which enables merchants across all industries to create brilliant, functional storefronts that help them make more sales. It lends itself particularly well to brands that use imagery to entice the visitors, and therefore is a perfect platform for fashion and clothing retailers to share their products, vision and ethos.
Top Fashion Brands on Shopify
With that said, let's take a look at some of the fashion brands on Shopify who are killing it and making the most of the ecommerce platform to grow their businesses.
---
We won't talk too much about Gymshark here, as we already featured them in our Biggest Brands on Shopify article but we had to give them a mention as the perfect example of how a business can come from nowhere and dominate the landscape in the space of a few short years. Gymshark replatformed to Shopify from Magento when that platform failed to handle the site's Black Friday traffic, causing it to crash, resulting in a huge loss of revenue. After several years on Shopify, they've recently redeveloped their site using a headless build.
Anyway, we're sure you know this brand. If you've been anywhere near a gym in the last 2 years we guarantee you've seen someone working out in Gymshark gear.
Chubbies have taken a playful approach with their branding and it makes for a colourful, lighthearted Shopify Plus store. Not everything has to be corporate and serious, and this (primarily) swimwear and shorts brand knows it. Their story takes this further, emphasising fun and irreverence as two of their values and labelling themselves as a group of ordinary friends who were sick of seeing rippling abs on clothes retail sites.
The site itself isn't a triumph of style - it's fairly ordinary and in many ways, basic, but something tells us this suits them just fine and reinforces their relatable messaging.
---
This clothing and accessory brand has a lot of the 'Lazy Oaf' vibe about it, with bright colours, quirky and irreverent messaging and collabs with icons like Disney, the Pink Panther and Playboy. Unlike Lazy Oaf, which started as a clothing brand, Skinnydip has moved into the fashion and accessories space, having started selling phone cases in 2011 when the original iPhone launched. It makes use of some key integrations to improve customer experience and sales, including Klaviyo and Nosto.
This classic men's clothing brand has a classy Shopify store with a clean grid layout. Big, clear flat-lay product imagery communicates the range effectively, and the brand makes its sustainability ethos clear on the homepage, with a section detailing their 'responsibility journey'.
Black Halo by Laurel Berman is a womenswear brand that uses beautiful lifestyle imagery to full effect to display their products. As you scroll down the homepage the sections subtly float into view and show off products from across their range, including 'trending', 'head turning dresses' and 'looks you'll love'. It's an example of a simple but effective site that shimmers with class.
The site builds intrigue with a prominent timer, counting down to the next collection drop and also enables customers to sign up to be the first to be told when collections go live, helping them increase their email database and use the power of email marketing to bring potential customers in at key times.
The 'about' page gives a good overview of the creator, Laurel Berman, and adds credibility by detailing her experience and life in the world of fashion and design.
This brand also makes good use of Insta, engaging regularly and showcasing its range to its 46,000 followers.
---
There are several brands in the market selling period underwear, and Love Luna is one of the main players. Its homepage greets you with a full screen hero image showing models wearing the product, benefits of the underwear and a prominent 'shop now' CTA. The nav allows you to shop by product, or by the heaviness of your flow.
A well-written 'About' page gives a comprehensive overview of the company, its founders, their ethos and the benefits of the products, leaving the reader with the headlines 'sustainable', 'affordable' and 'comfortable.'
The site makes it easier for customers to buy with helpful FAQs, a size guide, shipping and returns information.
This men's, women's and kids' fashion store is built on a custom Shopify theme and has an enormous range of collections and products which have been neatly organised in the top navigation.
They've utilised a countdown timer like Black Halo, but this one creates a sense of urgency and encourages people to 'order now' as time ticks away to take advantage of free 1 day shipping.
Large, full screen hero images and videos on the homepage draw visitors in and sales and discount banners are prominent around the site. Towards the bottom of the homepage a grid of lifestyle images showcase the products on models to bring the clothing to life, with a 'quick add' button on each product.
We migrated Lazy Oaf across to Shopify from Magento due to security concerns with the incumbent platform. The move gave us the opportunity to work with the brand to reimagine their ecommerce presence, and allow their irreverent sense of style and humour to shine through on the new website while showcasing their range of independent streetwear.
Female-founded in 2014, this underwear brand prides itself on focusing on the essentials and ditching the rest, so no unnecessary padding, bows or adornments. Their USP is approaching each piece from a 'function-first' point of view. The website certainly reflects this ethos. This clean, crisp and minimal Shopify site lets the products speak for themselves through lifestyle photography and a clear product page. A nice element is the 'looks good with' section underneath the products to encourage upsell, and a live review section under the products to help reassure the potential customer.
An Instagram feed at the bottom of the page is the finishing touch, and helps show the products in context.
3sixteen began life in 2008 as a denim company, producing jeans in partnership with Kuroki Mills in Japan. They've since expanded their range to include footwear, hats, outerwear, shirts, tees and accessories.
It has a slightly unusual layout compared to other fashion retailers, with a top nav that leads to a vertical navigation down the left of the site. It lends it a different feel, a bit more artsy than you would expect from a clothing site. The imagery has a vintage look to it, reminiscent of a different time but the site itself feels very modern.
An example of a retail site taking risks by not following the design conventions of most ecommerce stores, but it pays off here.
---
This retailer sets out its vision on the homepage as one of the first things you see. As a company rooted in Indigenous culture, this brand's vision is to build a vibrant global brand that makes a positive impact in Indigenous communities.
It's a good-looking site which makes great use of product and lifestyle imagery to represent its shoes and accessories, and their product descriptions are definitely more interesting than 99% of other fashion retailers. Check out this one, that describes their 'Harvester' boot as though it is a singer:
Shake up your bootie routine.
Maybe we're biased, but we'd totally buy Harvester's album. Not only is she flirty and fun, with a street-smart Turtle sole, but she's also beautifully crafted with just the right details: tasteful beading, a lace-up closure, and exactly the right amount of fringe.
I'd buy that!
This Shopify site is extremely classy, professional looking and sharp, as you might expect from VB. Some might say it's a little cold or severe, but it fits the serious fashion that lives within its collection and product pages. The site describes its customer and in a way, the site itself: 'The Victoria Beckham woman is core to the brand's foundation and visual identity, which is polished, elevated, relevant, and always informed by the current moment.'
Product imagery is 'on model' which then changes to an image of the product on a white background on hover.
A great feature on the homepage of this yoga apparel site is an Instagram gallery showing customers wearing Alo clothing. This is a lovely, natural way of incorporating UGC and the garments are also tagged to enable you to click straight through to the product page to buy.
There's more social proof in a section on the About page showing photos of celebrities in Alo clothes, including Hailey Baldwin, Gigi Hadid, Taylor Swift and Kendall Jenner. We'd suggest elevating this from the About page to somewhere more prominent on the site to make it more visible.
The site goes beyond selling clothes, adding the option to buy online yoga classes. There are even some free mindfulness videos for kids to give extra value. Everyone likes a freebie.
There's also a rewards section, presumably so customers can earn loyalty points and other benefits, but when we tried to click through, that section of the site seemed broken.
---
We worked with Motel, launching a redesigned Shopify Plus store, creating international clone instances, as well as SEO support and a retainer package to improve their stores on an ongoing basis.
The site has a prominent banner and pop up promoting key sales and discounts, and as a very visual store, Instagram is made good use of, linked from the top navigation to help people shop the look.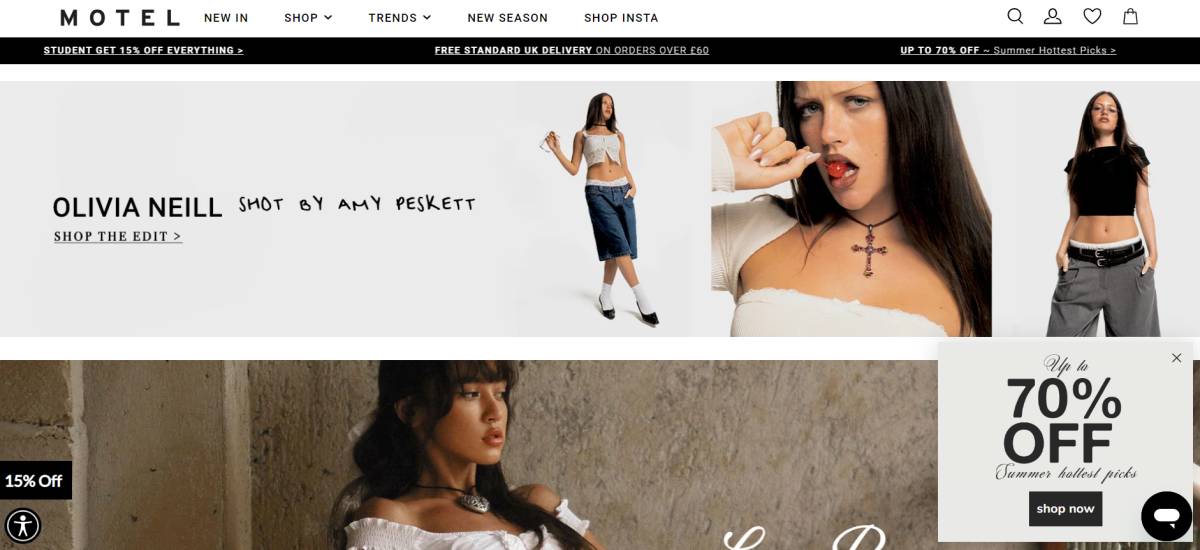 There is an email capture pop-up that appears soon after landing on this childrenswear site. It includes a field to enter your email address with a 'sign up' button below, but it doesn't explain why people should provide their email address; for example what benefits they can expect in return.
A well-organised top nav lets you get wherever you want easily (might sound obvious but not every ecommerce site does this) and they've included 'celebs' up here (take note, Alo Yoga!) with screenshots from celeb Instagram accounts such as Kylie Jenner, Pink, Hilary Duff, a Kardashian and Chrissy Teigen. People often buy items or clothes they see that celebs have bought to try and emulate their style, so it's an effective tactic.
This Australian clothes boutique takes the opposite approach to Huxbaby with the pop-up that it presents you with upon arrival at the site. This one has an image of a pink car with text that reads 'Win a 2023 Jeep Wrangler plus a $1,000 White Fox wardrobe - ENTER NOW'. That's a more compelling encouragement for someone to leave their email address.
The site itself is big, bold and colourful and catalogues its huge range of products effectively in a well-defined top navigation.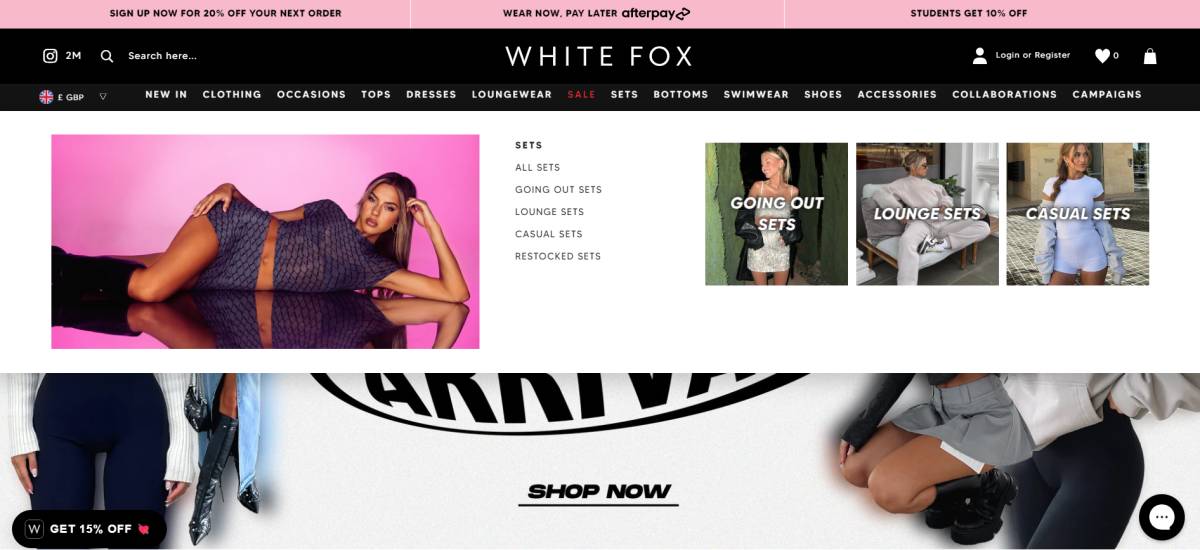 A touch we liked on this site is the 'White Fox University' - students can apply, and if successful, they become ambassadors,receiving free clothes, exclusive first looks at new drops, the ability to be featured on the White Fox site and socials, and a promise of being the 'go-to for fashion inspo on your campus'. A great deal for the brand - free marketing and an army of brand ambassadors - and a load of benefits for the applicants!
---
We've helped dozens of fashion brands improve their ecommerce performance through new Shopify sites, CRO and marketing services, and strategic advice. Whatever stage you're at on your ecommerce journey, whether looking to launch into online retail or a full brand overhaul for an established brand, get in touch with our team for a chat and we can talk through how we could help.
---
To stay up to date with all things ecommerce, make sure you subscribe using the form below to receive our weekly newsletters, guides and advice.