In 2021 we continued to expand our portfolio of incredible client partners. As well as continuing relationships with our longstanding clients, we welcomed on board a host of new Shopify merchants so we could help build their ecommerce businesses via our portfolio of services.
From Shopify rebuilds, replatforming and migration projects, brand new Shopify Plus builds, bespoke app development, results-driven marketing campaigns, strategic audits, CRO support and live shopping events, we loved working with these clients on such a diverse range of projects. Here are some of our favourite Shopify brands we've been working with:
We were really pleased to work with this established designer girlswear store. Created by Keely Deininger at her kitchen table, it's grown into an international brand selling in more than 400 boutiques in over 40 countries around the world. We worked with Angel's Face to build their new Shopify store and help their international growth.
We work with Tropic Skincare to continually grow their revenue through a range of marketing tactics and through design and development support for their Shopify store. Last year we also helped them to launch Live Shopping, enabling them to connect in a direct, organic way with their audience, and saw outstanding results.
Last year we joined the Mindful Commerce directory, a collective whose members' mission it is to make ecommerce part of the sustainability solution, rather than the problem.
One of the sustainable brands we worked with was Tidl, which focuses on coastal adventure gear made from recycled plastic and sustainable materials. We were delighted to launch their new Shopify website for them.
Blooms is a California-based farm and orchard selling the highest quality, most premium cherries on the market. We worked with them to deliver high-performing marketing campaigns for their Shopify store across SEO, PPC, paid social media, organic social media, email marketing and onsite content.
We managed a successful platform migration to Shopify for this heritage British chocolate manufacturer who wanted to utilise the power of Shopify to grow the brand. We also delivered a strategic audit and strategy and implemented marketing recommendations.
InvestIN programmes offer students an immersive experience of their dream career, giving them the confidence to choose the right career and maximise their potential. We worked with InvestIN to deliver a strategy and audit for their Shopify site and ecommerce presence, to help capitalise on growth opportunities.
Heritage shoe brand, Oliver Sweeney, came to Eastside Co to replatform the brand from its existing home on Magento 2, to Shopify Plus. Our SEO professionals worked with our design and development team to ensure a smooth migration to the new platform, creating an award-winning site (Best UX Design, Best UI Design, Best Innovation, Special Design Kudos - CSS Design Awards) along the way.
Our UI specialist worked with our development team to bring this independent British home decor brand to life on Shopify, helping to create an award-winning Shopify store focused on brand expression with custom app functionality.
Another one of our site launches in 2021, it was a pleasure to bring this health drink brand's site to life on the Shopify platform. VITHIT shows that with creativity and inovation, brands can thrive internationally on Shopify in a competitive marketplace.
Origin Coffee is an independently owned speciality coffee roaster that is bound by one central ethos; to source exceptional coffee through a sustainable, triple bottom line approach. We conducted a deep-dive audit for Origin Coffee to help them shape their strategic direction.
September 2021 saw us launch New Forest Clothing's new Shopify website. Stockists of leading British country-style clothing, their new site elevated the brand and allowed it to better showcase its products.
After delivering a commprehensive audit and strategy to Twenty Fashion, the home of luxury designer brands for women, we implemented our recommendations across email, organic and paid social media, PPC and SEO and saw fantastic results across traffic, conversions and revenue. We're working with the brand to relaunch on a brand new Shopify store.
We worked with tern to bring their vision to the Shopify app store. A superb concept for sustainability, the app allows customers to trade in goods they no longer want or need in order to secure a discount against future purchases. It also allows merchants to extend product lifestyle and reduce waste.
Established in 1948, Condor Cycles is a champion of quality. We're delighted to be working with them and developing a new Shopify store for this heritage brand.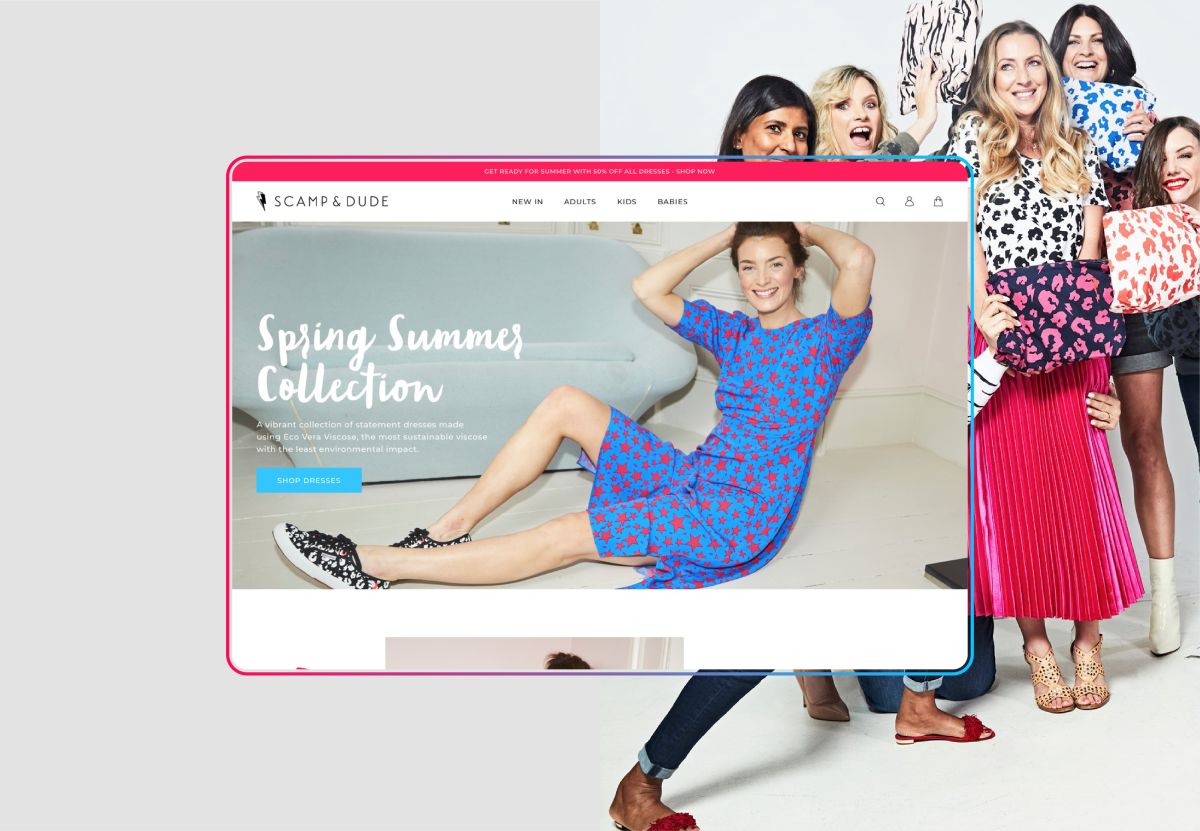 Scamp & Dude is a British purpose-led fashion brand with a huge heart, created by Jo Tutchener-Sharp, founder and previous MD of Beauty Seen PR. We loved working with this vibrant, colourful brand and giving it a refresh on a new Shopify site.
Quiz is a dynamic fashion retail group that focuses on delivering catwalk-style looks and the latest trends at value for money prices. We worked with Quiz and took a deep-dive into their ecommerce business. We delivered an audit in order to help them understand what is currently being done well, and to show where opportunity lies to help grow the brand.