According to data from RJ Metrics, eCommerce websites make up approximately 10-12% of the internet. Meaning that there is quite a lot of competition to make a store stand out from the rest. Having a bad looking website or negative usability could mean the difference between success and failure. Fortunately, more and more businesses are turning to the Shopify UK platform and their trusted web design partners to create excellent stores that stand out from the crowd. With the help of the Shopify platform and some clever custom web design, entrepreneurs are managing to create extremely successful eCommerce stores. Find out the secret to their success below:
What exactly is the Shopify UK platform?
If you are not familiar with Shopify and are about to embark on opening an eCommerce store then let us fill you in! Shopify is a complete out-of-the-box eCommerce solution. The platform allows you to set up an online store (without any coding or website building) to sell your goods. It lets you organize your products, customize your storefront, accept credit card payments, track and respond to orders all with a few clicks of the mouse. Anyone (even techno-phobes) can use the platform without spending a fortune on premium and time consuming web development. Meaning it has opened the realm of eCommerce to more start-up businesses who could not previously afford to spend over five thousand pounds developing a website from scratch.
Superb Features of Shopify
Affordable monthly plans to suit any size of business.
Can be linked with a range of payment gateways to suit your existing accounts.
A range of both free and premium store designs to get your website going.
Powerful insights into your customers to help you with marketing.
Fully customisable HTML and CSS.
Integrated blogging functionality.

Applications to add superior functionality to your store.

Begin a FREE 14-day Shopify trial
Why do customers decide to get a custom web design for the Shopify UK Platform?
Although Shopify does supply a range of both free and premium themes, sometimes a business requires a little bit more to impress and gain customers. Some of the downfalls of using a Shopify template can include: - There are going to be a ton of other businesses using the same template as you. Shopify will keep selling that same template to anyone that comes along. The catch 22 of the situation is - if it's a really great template, there are going to be even more people using it.
Unless you know how to implement HTML and CSS effectively, you will be extremely limited on the customization of the Shopify theme. If you have little to no web page coding skills then you are going to have to learn (which can be costly and time consuming) or still need to hire someone to help you alter the theme.

If you are familiar with SEO then you may realise that the coding of a theme can directly effect how well you are found on the internet. Not all themes are created equally in terms of SEO. By using a template theme, yours may not being optimised to it's full potential.
By investing in a custom Shopify web design you will benefit from having:
By having a custom Shopify web design created by Shopify Builder you can rest easy knowing that your website is completely unique. It will also be perfectly adapted to suit the needs of your business. When consulting with us we will make sure to take you through the website planning from A to Z. This means that any additional features will be planned from the start. Other benefits of having a completely custom store include: - A completely up-to-date design. Web trends change very quickly and templated themes can also age rapidly.
It will be constructed so it is search engine friendly. As pre-mentioned the background coding of your website is done will influence your success in the search engines. Let your customers find you from the start!

Although you may be a start-up business, you want to build a Shopify store that will last the distance. At Shopify Builder we project the future of your ecommerce journey to ensure that you have a shop that can cope with the demands of your future.

Being able to update your own website is also extremely important. Unlike some web design companies, we build functionality into your custom theme so you are able to edit your website yourself! No major HTML or CSS knowledge required. We also offer help during the handover period so you are left with a beautiful and manageable eCommerce store.
Some examples of our most recent popular custom Shopify designs:

Summer Love Swimwear came to us as they wanted a complete, professional Shopify custom design which would represent their brand in both looks and functionality too. The company focuses on high quality bikinis that are mix-and-match by nature. With emphasis that you can pick a bikini to suit your body shape. Therefore it was very important that the customer could navigate their website and put together the styles of bikinis with ease. The result was a stunning and usable store front that increased conversions and was SEO friendly too.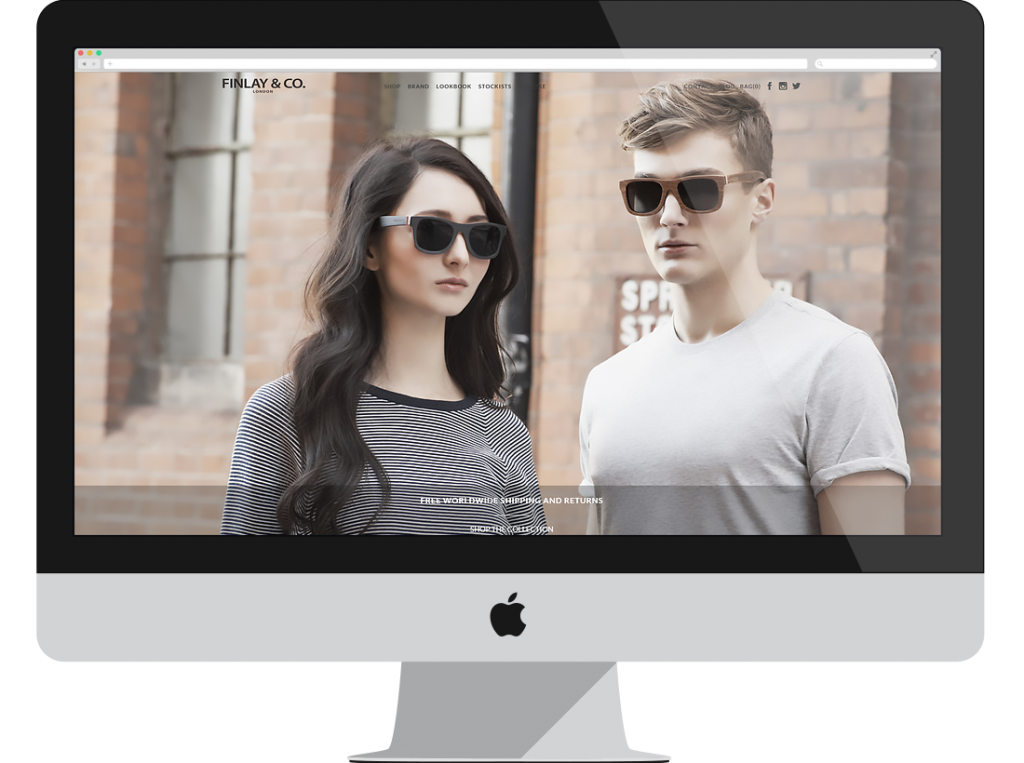 Finlay & Co are another great example of clients who wanted a completely custom Shopify design. They came to us looking for an extremely modern website that showcased their wooden sunglasses to perfection. The website needed to attract both shoppers and potential stockists. Finlay & Co required custom features such as a look book and engraving options on their product pages. We were able to supply all that functionality and much more. Just visit their website to experience the stunning video montage on their home page. For more examples of affordable custom web design for Shopify, you can view our full custom Shopify theme portfolio.