Design is at the heart of Shopify Builder. Without stunning aesthetics making up our brilliantly designed and functional Shopify sites, where would we be? The overall design of a site has a huge impact on a potential customer's first impression of the company and whether or not that person will turn into a paying customer who'll contribute to your monthly profit pot.
In recent years, web design has proved to be a hugely competitive industry. Every company now has a website and the design of a site is what really sets a company apart from their competitors. Web design covers a large scope of elements from logo design to functionality design, which all play an integral part in creating a beautiful website.
A plethora of studies have shown that great web design generates business and an easy to use interface increases conversion. As superficial as it may sound, a good looking site can really make a huge impact on a business. Here at Shopify Builder we understand this and have been building up our knowledge to become the experts we are now, learning an exponential amount along the way...
User-Centered Design
What's the point of your website if you have no users? The users need to be put right in the centre of the design focus. We've learnt that simple and straightforward websites are key to good user experience and that good user experience is key for online sales.
One of the most important parts of a website to make user friendly, is the navigation. In order for a website to have a good user experience, the navigation bar or list needs to be both easy to find and to comprehend. This will result in the user being able to quickly and easily travel through the entire site.
We've found that rather than implementing pretty typefaces and complex (but striking) designs, over-simplified navigation works best for a large range of customers. A rule we go by is: 'Could my grandfather use this?' If the answer is no, simplify it more; if the answer is yes, bravo, you're done!
Being Versatile
As a graphic designer, it can at times be tough to have re-do designs over and over until it aligns precisely with the client's vision but we've learnt to take it in our stride and use all feedback constructively. As a result, we always adapt our skills accordingly to which project we're working on - one size does not fit all!
At an agency, it's important to be versatile partly because of the huge range of different industries we've had to cover - from air conditioning to jewellery, we've had it all! Each new client we take on is a huge learning curve for us because of the amount of industry research we do before taking on a new endeavor - we've become masters of many a craft.
Similarly, we've had to be versatile with our design process. Generally, we have a phone call or meeting with a client in order for them to give us a brief before we dive into research, draw up a wireframe, lay out the design of the site and then await feedback. However, over the 3 years, we've been trying to improve this process in order meet clients' needs and to make the process faster and more efficient.
Responsive Design
Responsive web design is no longer just a trend or a little perk; it is an absolute must have for any company.
Looking around you, you will see a vast variety of devices that are being used; mainly mobiles. It is predicted that by the end of this year, there will be more mobile usage than desktop usage. Not only will this drastically change the way that people consume online information, it also means that we have to be very vigilant when designing responsive sites in order to give the best online experience possible.
Put simply, responsive web design involves the implication of techniques to allow a website to flex and adapt to the size of any screen it is viewed on. Responsive web design takes into account interaction as well as reformatting which involves features such as touch screen navigation.
As the ever changing virtual world has evolved, obviously trends, needs and wants have transformed. It's evident in the current market that fancy designs and eye candy are no longer want web users want, but rather: solid, interesting and shareable content. This means that responsive design is currently having to explore the implications that limited screen options are having on this and makes us designers have to consider the idea of 'mobile first'.
When we started off, responsive sites were just an option. Now however, all the sites we design are also responsive, with a lot of requests for custom designed responsive sites from those companies who are anticipating the spike in mobile/tablet users. Previously, checking websites on a device meant difficult navigation, large, slow downloads and just a generally an all round poor user experience. So, the completely separate mobile sites that we're designing more and more of, are a great new challenge for us - particularly designing elements that will cater to all screens. The mobile sites are basically just a toned down version of the site's content and functionality in order to make the user experience, quick, simple and enjoyable.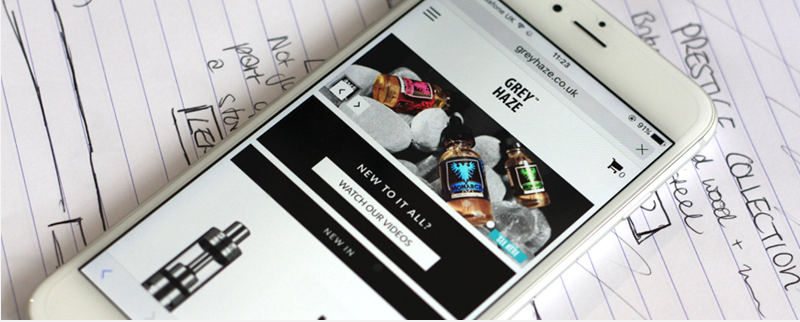 We've learnt so much in 3 years and we're incredibly excited to see what else the world of web design has to throw at us over the next 3 years!
If you would like any design work done on your Shopify site, please have a look at our Shopify Web DesignServices and get in touch.